Chapter 2

But what is a partial differential equation?
Introduction
After seeing how we think about ordinary differential equations in chapter 1, we turn now to an example of a partial differential equation, the heat equation.
Setup
To set things up, imagine you have some object like a piece of metal, and you know how the heat is distributed across it at one moment; what the temperature of every individual point is. You might think of that temperature here as being graphed over the body.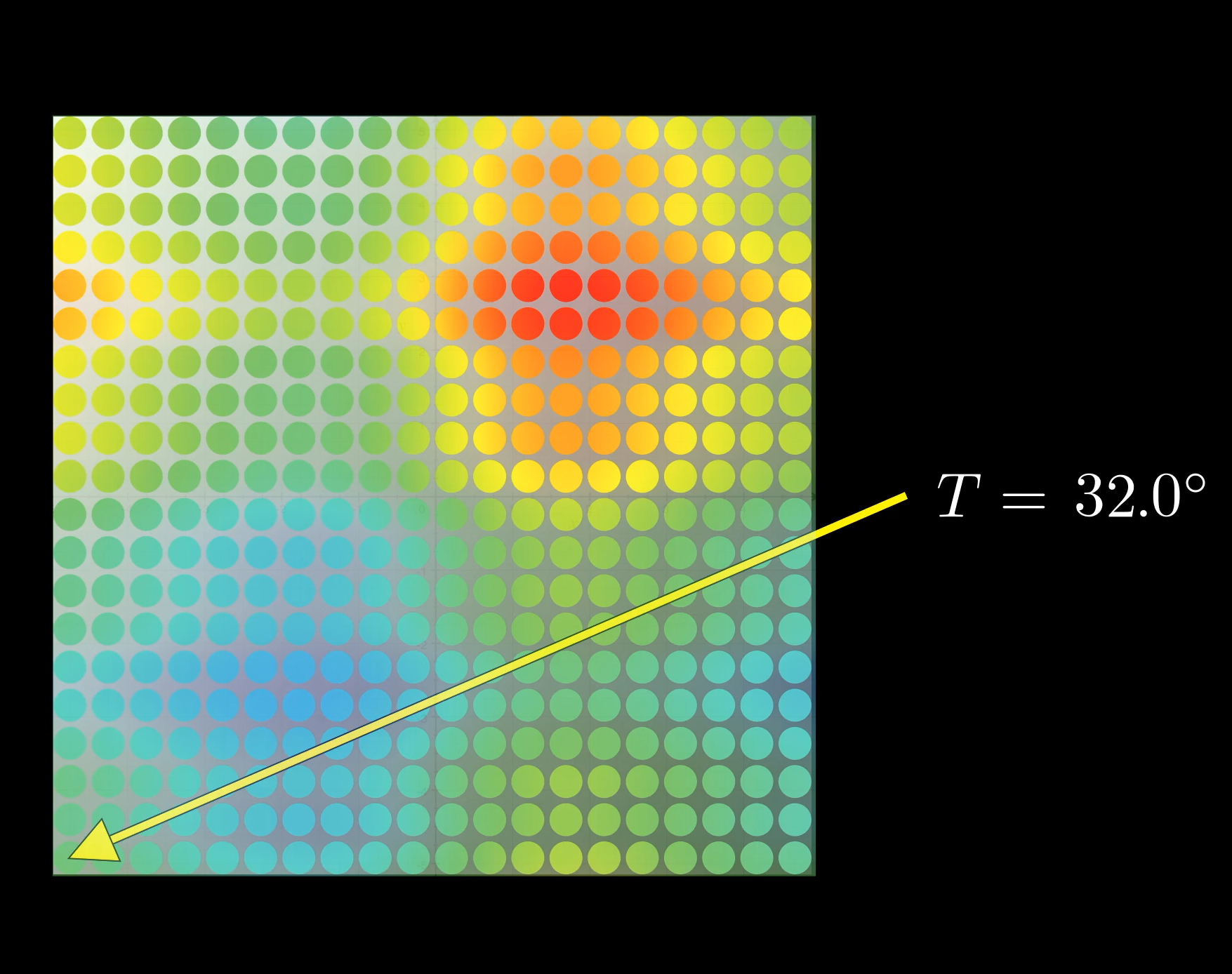 The question is, how will that distribution change over time, as heat flows from the warmer spots to the cooler ones. The image on the left shows the temperature of an example plate with color, with the graph of that temperature being shown on the right, both changing with time.
To take a concrete 1d example, say you have two rods at different temperatures, where that temperature is uniform on each one.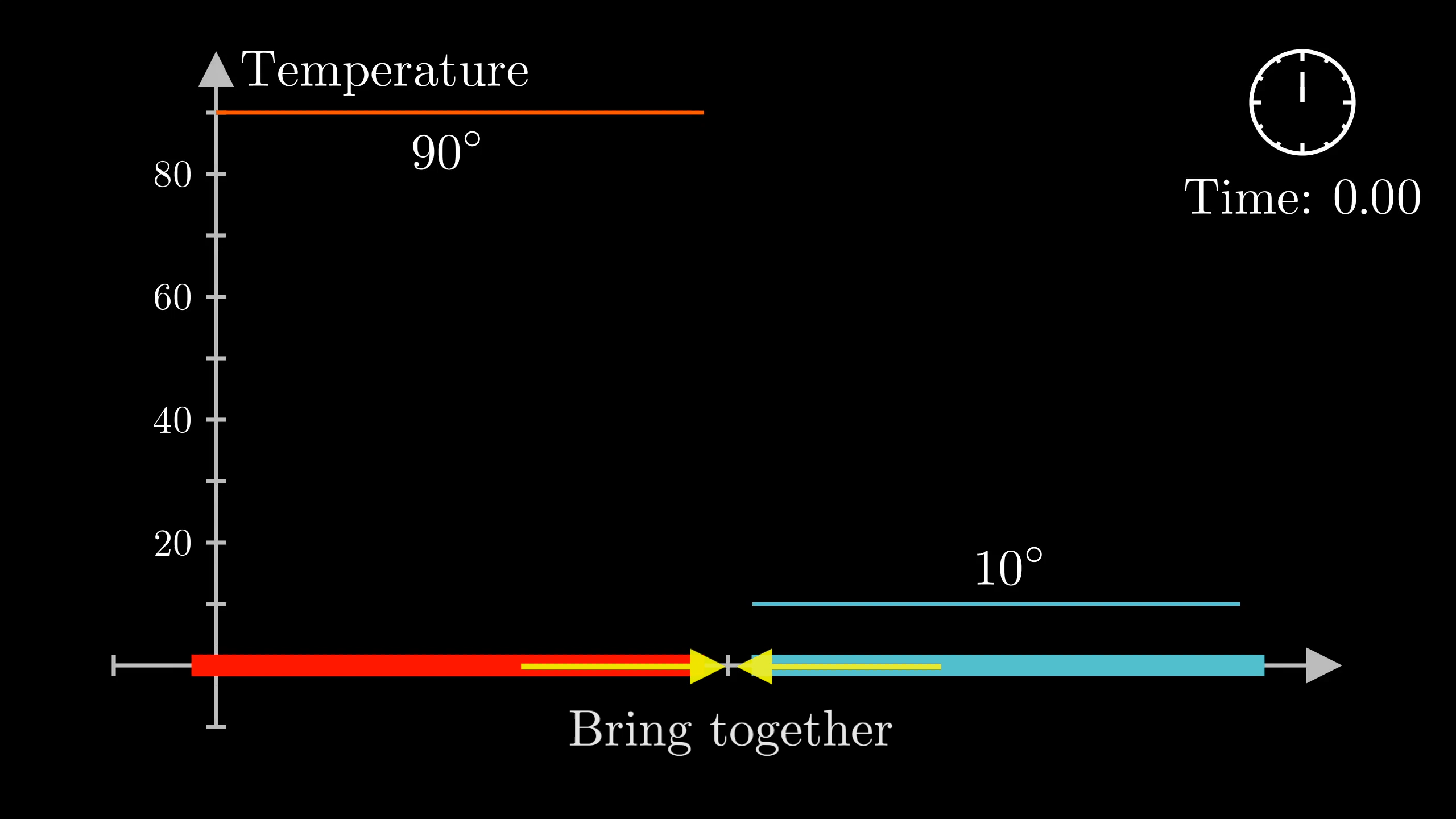 You know that when you bring them into contact, the temperature will tend towards being equal throughout the rod, but how exactly? What will the temperature distribution be at each point in time?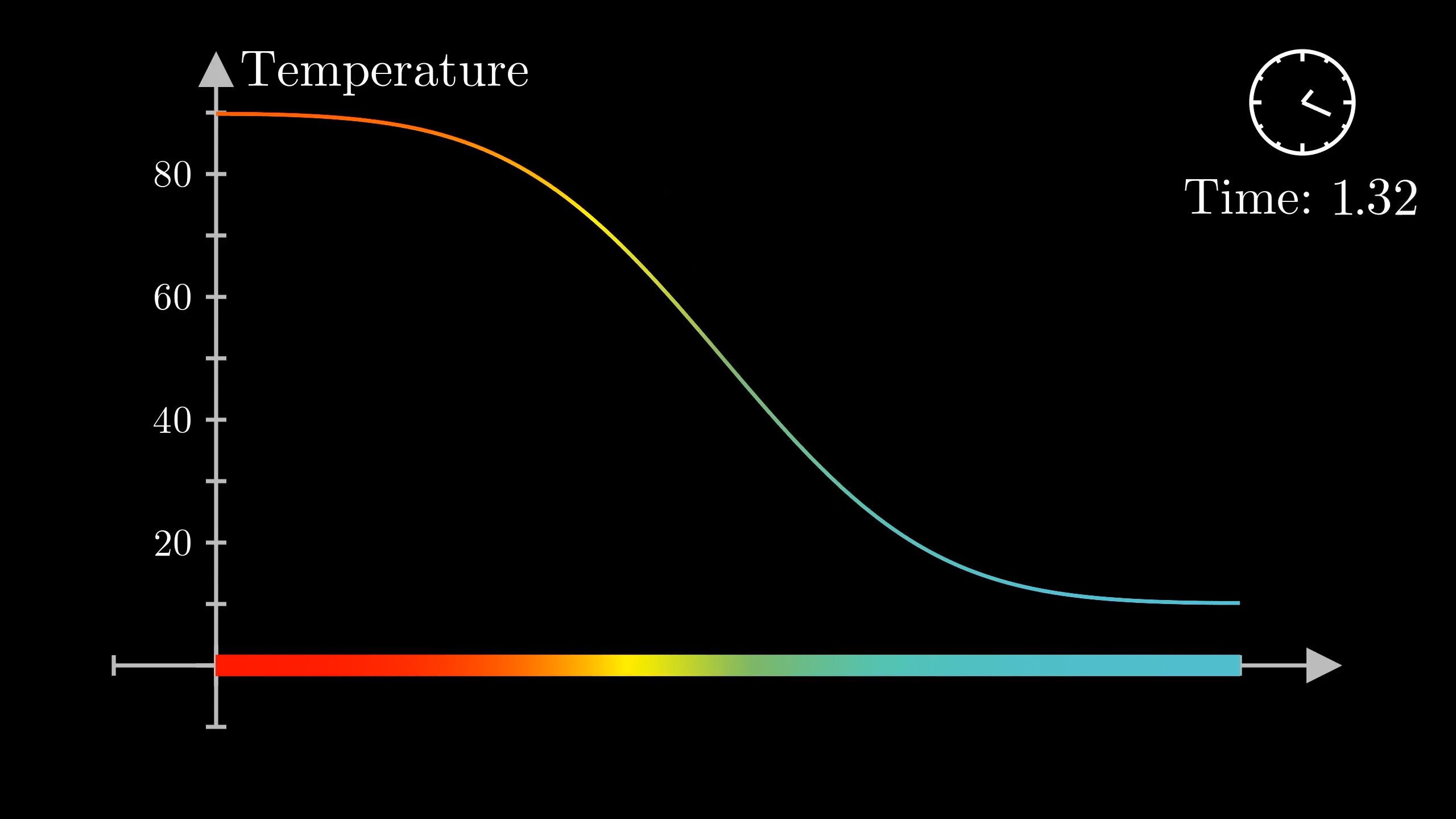 As is typical with differential equations, the idea is that it's easier to describe how this setup changes from moment to moment than it is to jump to a description of the full evolution. We write this rule of change in the language of derivatives, though as you'll see we'll need to expand our vocabulary a bit beyond ordinary derivatives.
Context
Variations of the heat equation show up in many other parts of math and physics, like brownian motion, the Black-Scholes equations from finance, and all sorts of diffusion, so there are many dividends to be had from a deep understanding of this one setup.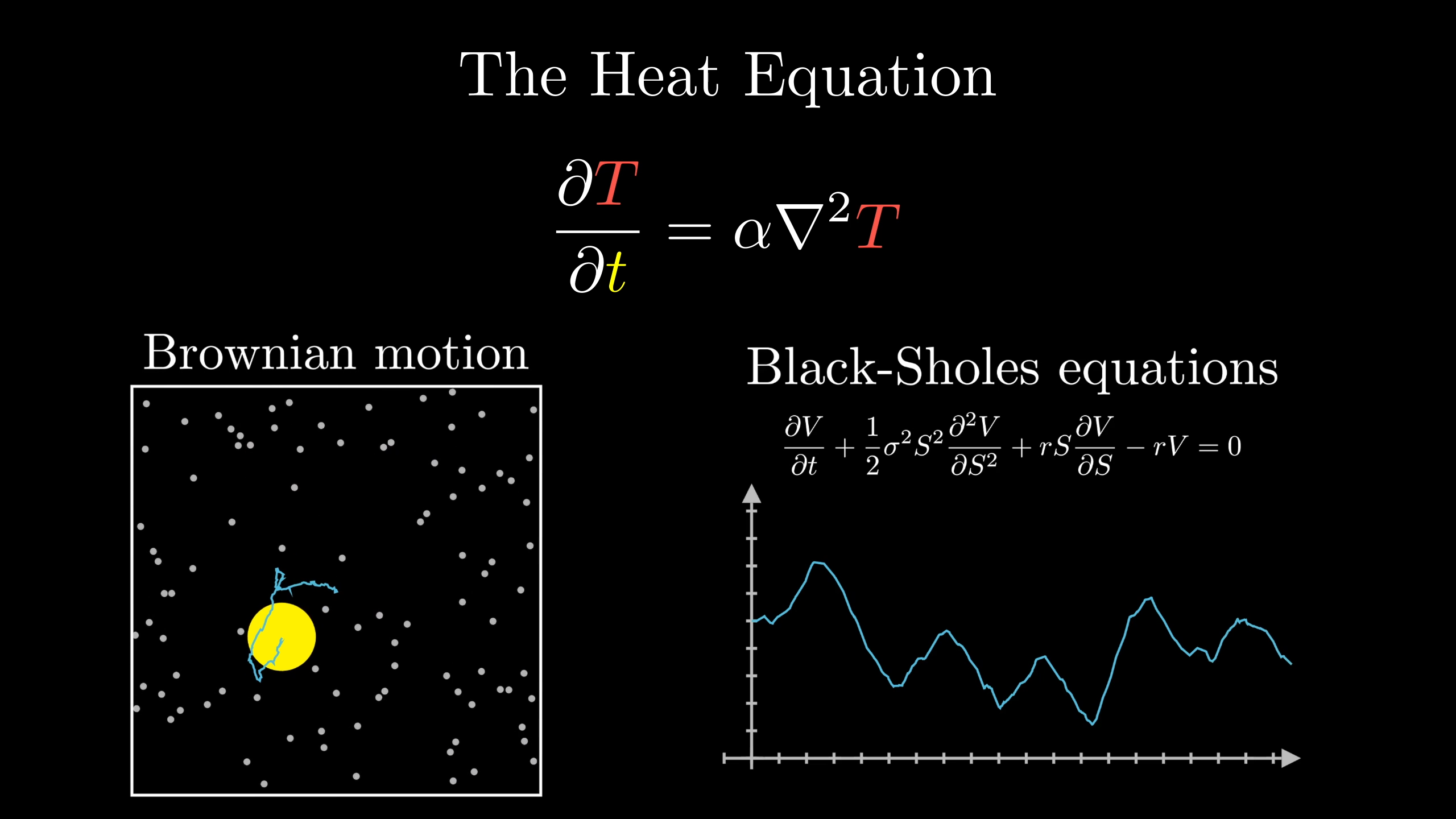 In the last lesson we looked at ways of building understanding while acknowledging the truth that most differential equations are difficult to actually solve.
And indeed, PDEs tend to be even harder than ODEs, largely because they involve modeling infinitely many values changing in concert. But our main character for today is an equation we actually can solve.
If you've ever heard of Fourier series, you may be interested to know that this is the physical problem which Fourier was solving when he stumbled across the corner of math now so replete with his name. We'll dig much more deeply into Fourier series in the next lesson, so be sure to give that one a read after this one.
The heat equation
What does the graph represent?
Let's start building up to the heat equation. First, let's be clear on what exactly the function we're analyzing is. We have a rod in one-dimension, and we're thinking of it as sitting on an x-axis, so each point of the rod is labeled with a unique number, x. The temperature is some function of that position number, T(x), shown here as a graph above it.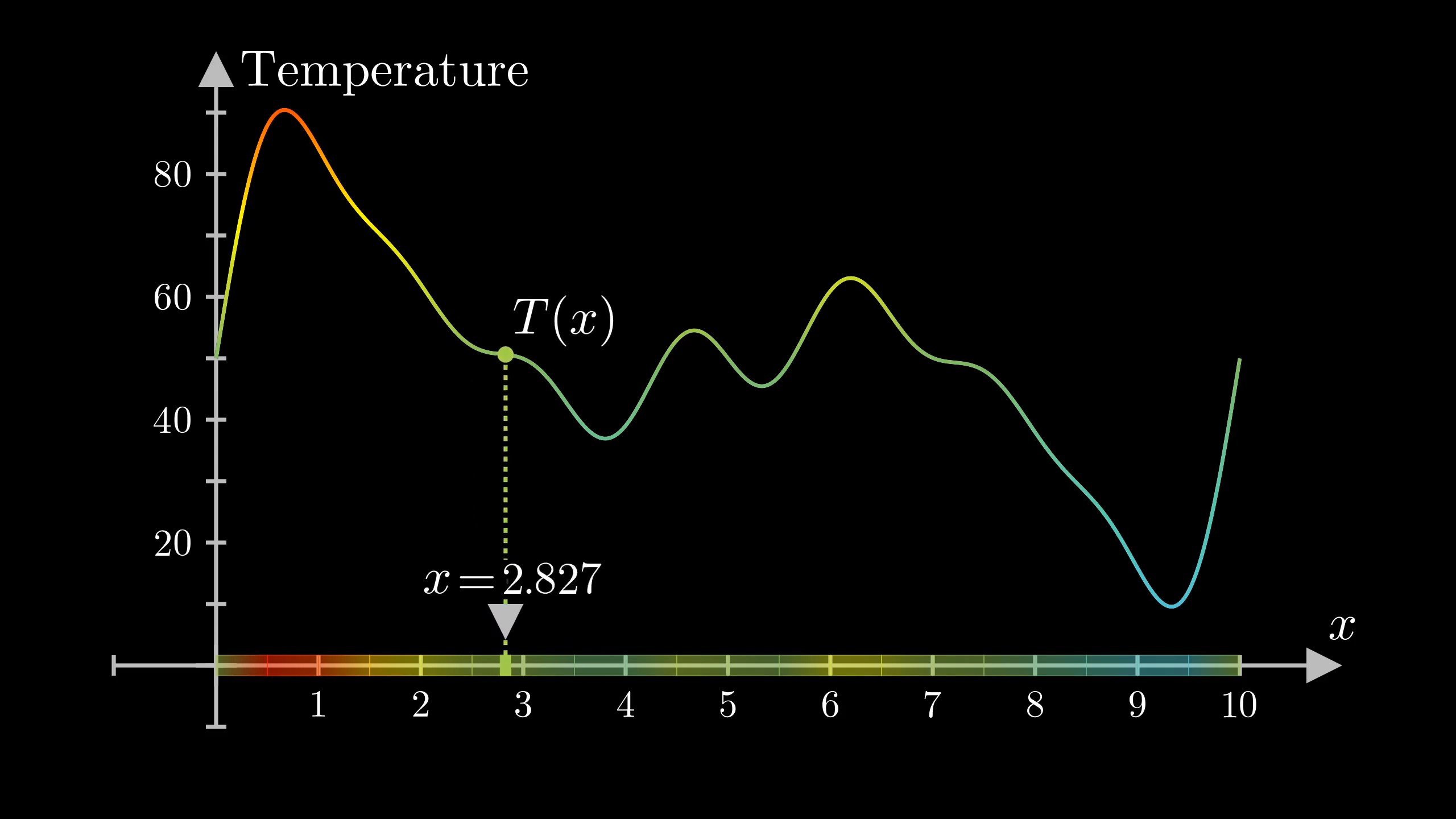 But really, since this value changes over time, we should think of this function as having one more input, t for time. So really, the function we're analyzing is T(x,t).
You could, if you wanted, think of the input space as a two-dimensional plane, representing space and time, with the temperature being graphed as a surface above it, each slice across time showing you what the distribution looks like at a given moment.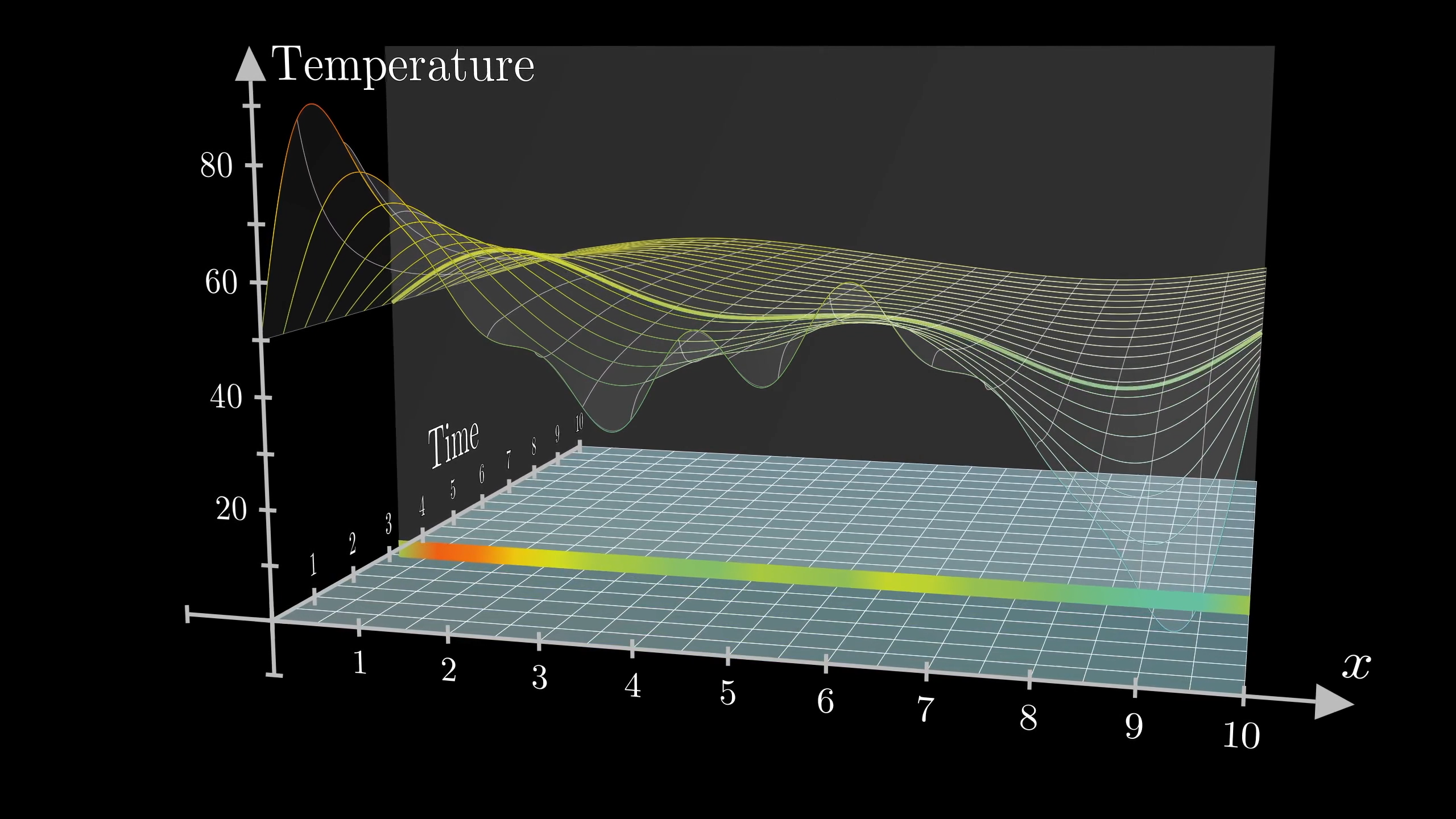 Or you could simply think of the graph of the temperature changing over time. Both are equivalent.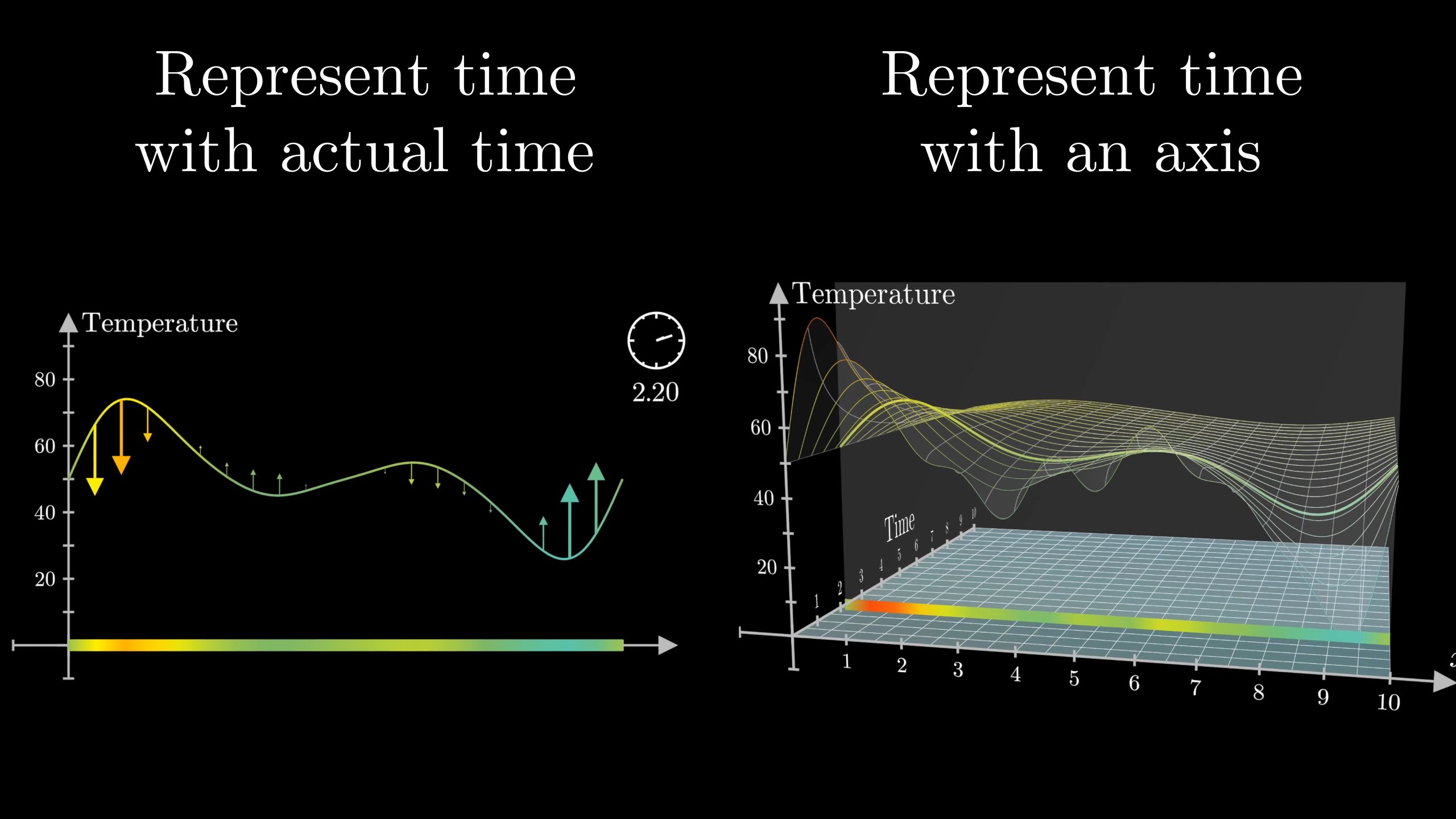 This surface is not to be confused with what I was showing earlier, the temperature graph of a two-dimensional body. Be mindful of whether time is being represented with its own axis, or if it's being represented with an animation showing literal changes over time.
What are partial derivatives?
In the last chapter, we looked at some systems where just a handful of numbers changed over time, like the angle and angular velocity of a pendulum, describing that change in the language of derivatives. But when we have an entire function changing with time, the mathematical tools become slightly more intricate. Because we're thinking of this temperature as a function with multiple dimensions to its input space, in this case one for space and one for time, there are multiple different rates of change at play.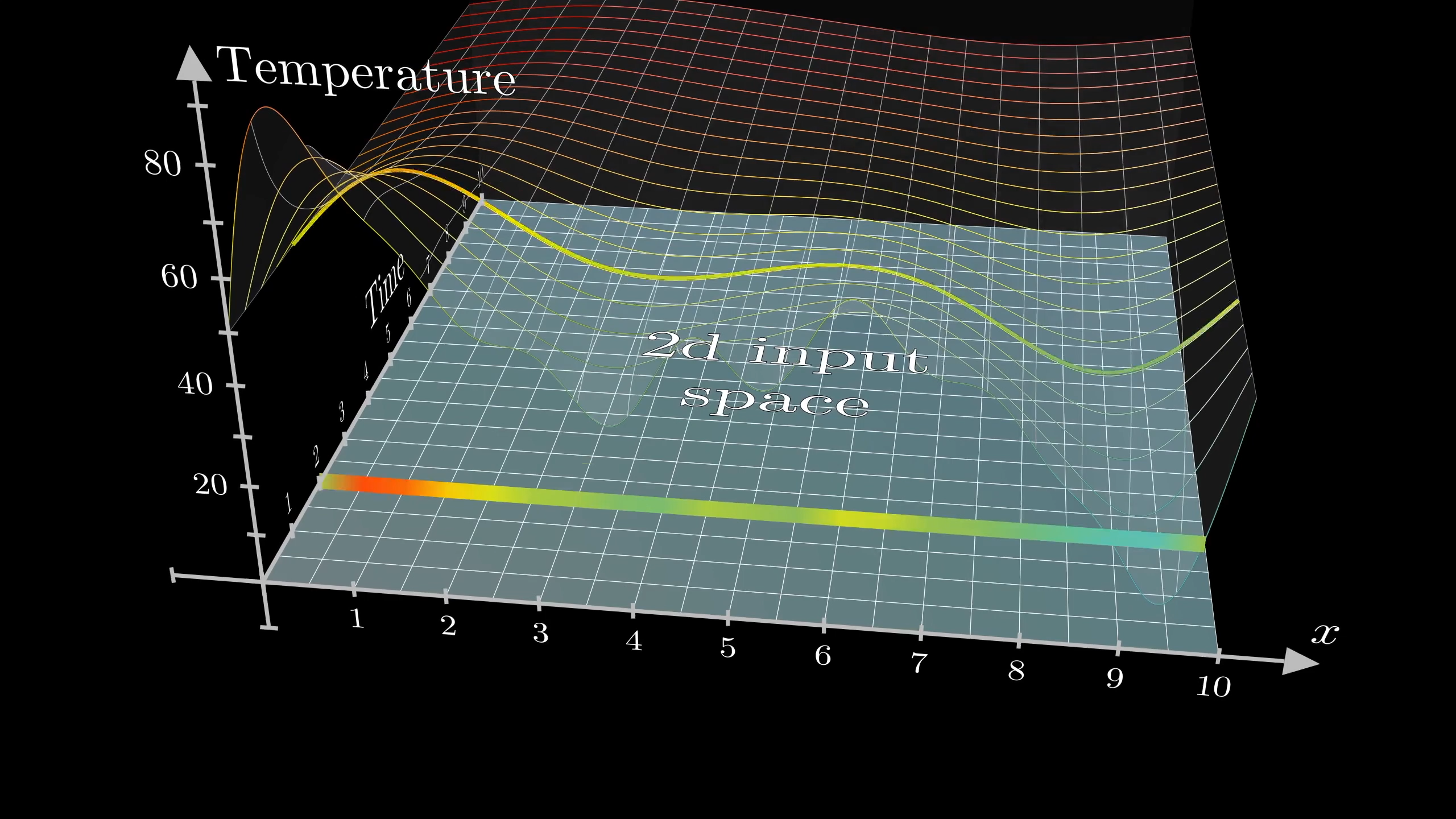 There's the derivative with respect to x; how rapidly the temperature changes as you move along the rod. You might think of this as the slope of our surface when you slice it parallel to the x-axis; given a tiny step in the x-direction, and the tiny change to temperature caused by it, what's the ratio?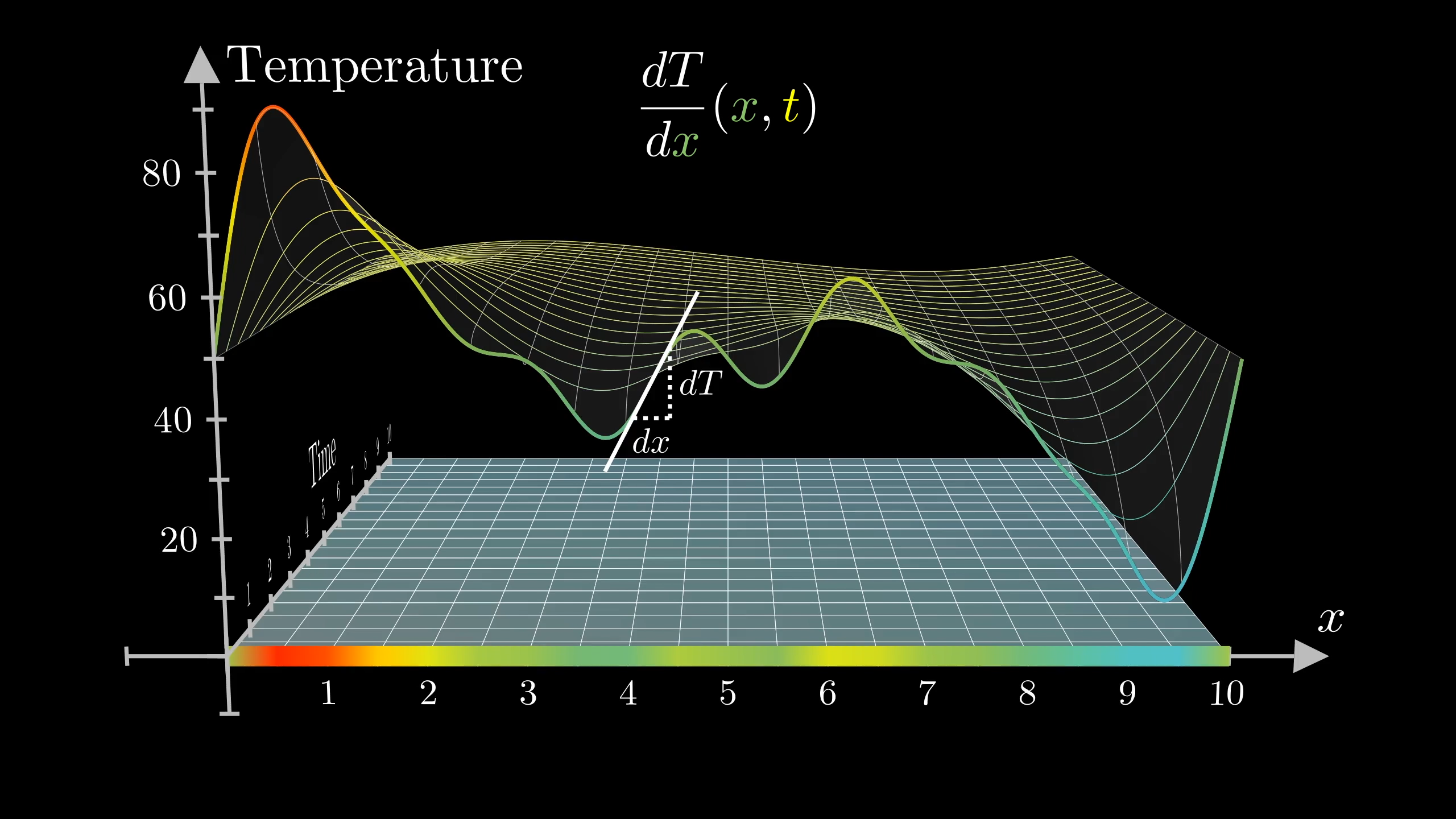 Then there's the rate of change with time, which you might think of as the slope of this surface when we slice it in a direction parallel to the time axis.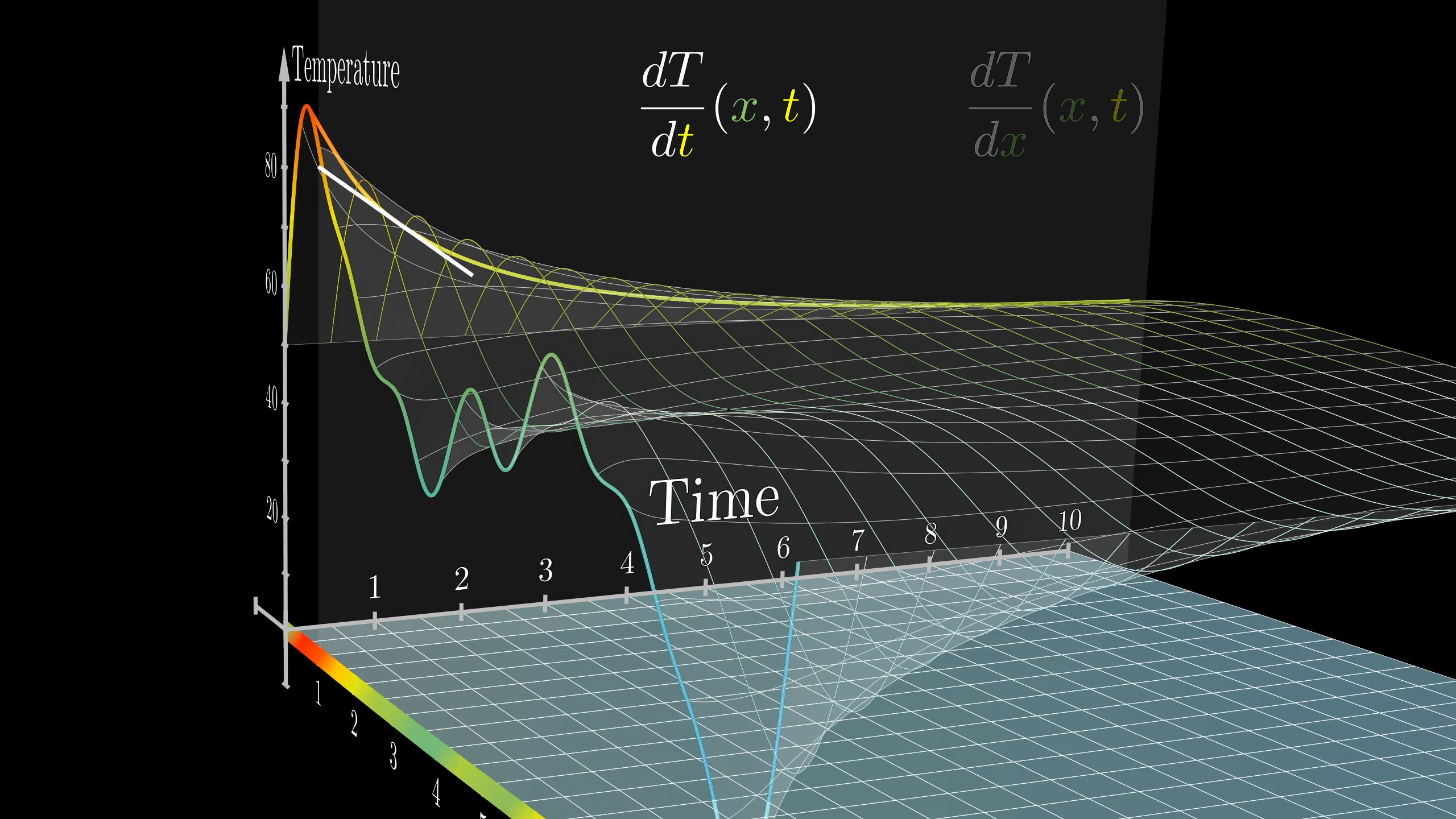 Each one of these derivatives only tells part of the story of how the temperature function changes, so we call them "partial derivatives". To emphasize this point, the notation changes a little, replacing the letter d with ∂, sometimes called "del".
To reiterate a point I made in the calculus series, I do think it's healthy to initially read derivatives like this as a literal ratio between a small change to a function's output, and the small change to the input that caused it. Just keep in mind that what this notation is meant to convey is the limit of that ratio for smaller and smaller nudges to the input, rather than for some specific finitely small nudge. This goes for partial derivatives just as it does for ordinary derivatives, and I believe can make partial derivatives easier to reason about.
The heat equation is written in the language of partial derivatives.
It states that the way the temperature changes with respect to time depends on its second derivative with respect to space. At a high level, the intuition is that at points where the temperature distribution curves, it tends to change in the direction of that curvature.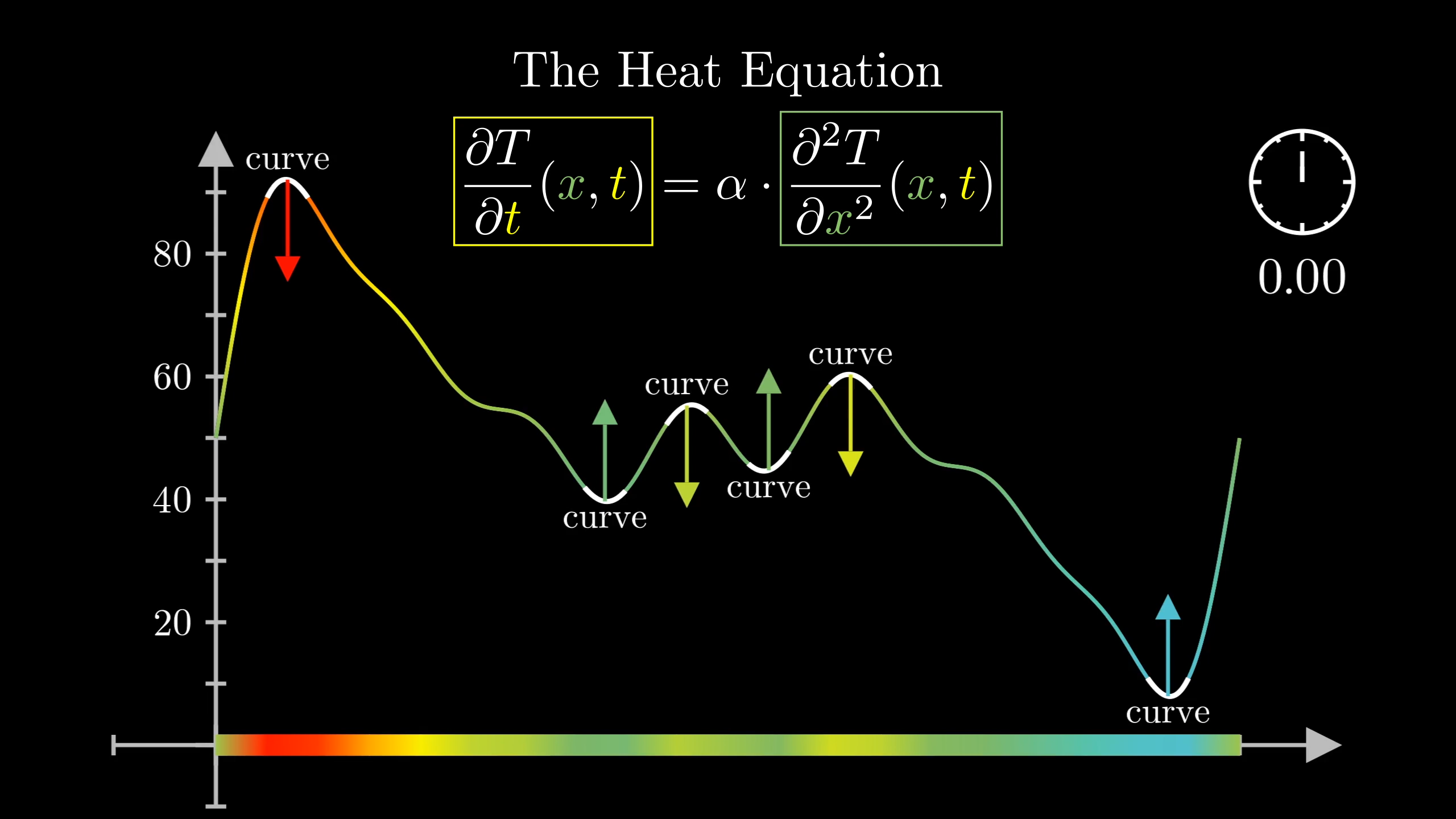 Since a rule like this is written with partial derivatives, we call it a partial differential equation. This has the funny result that to an outsider, the name sounds like a tamer version of ordinary differential equations, when to the contrary partial differential equations tend to tell a much richer story than ODEs.
The general heat equation applies to bodies in any number of dimensions, which would mean more inputs to our temperature function, but it'll be easiest for us to stay focused on the one-dimensional case of a rod.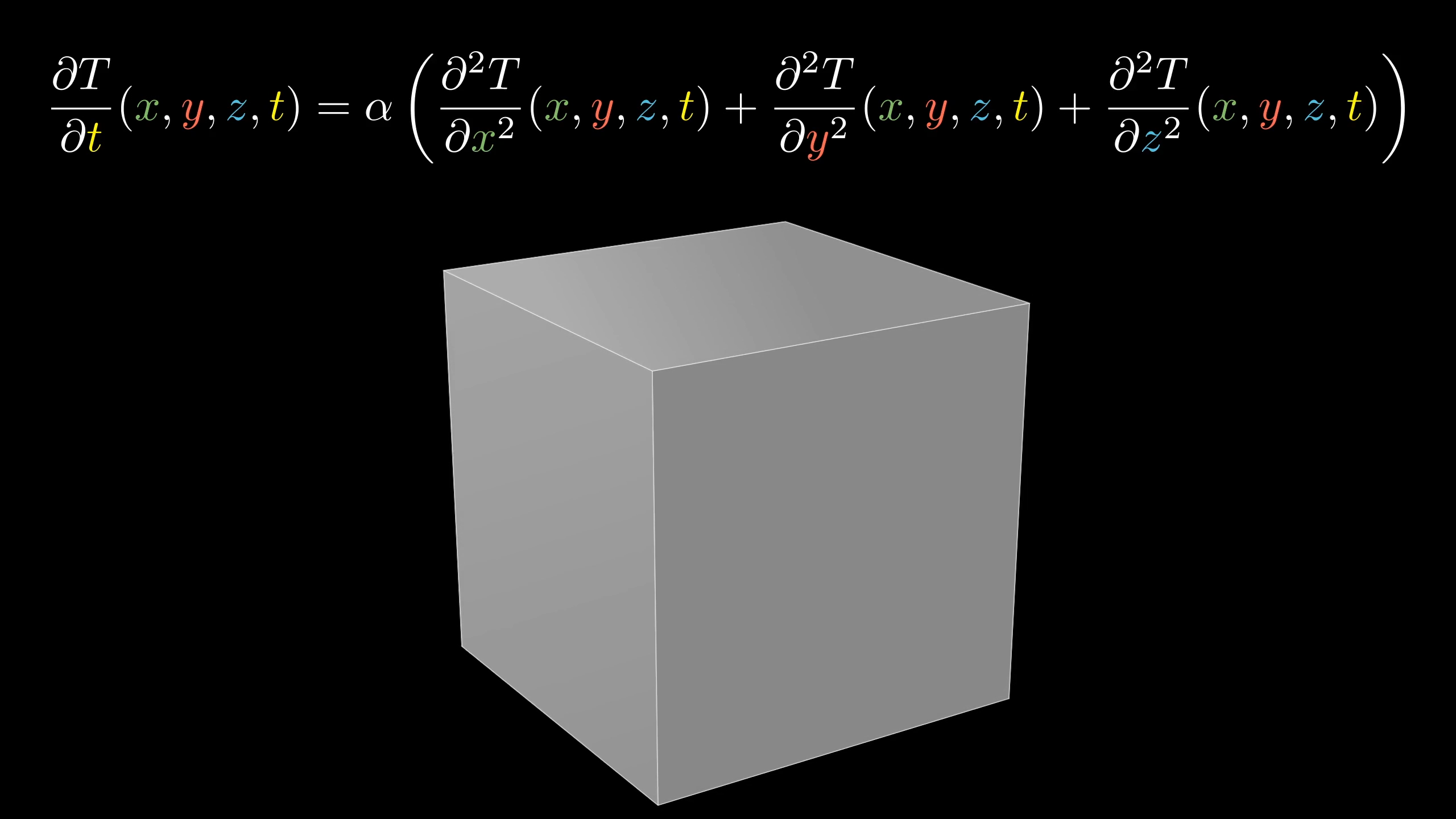 As it is, graphing this in a way which gives time its own axis already pushes the visuals into three-dimensions.
The discrete case
But where does an equation like this come from? How could you have thought this up yourself? Well, for that, let's simplify things by describing a discrete version of this setup, where you have only finitely many points x in a row. This is sort of like working in a pixelated universe, where instead of having a continuum of temperatures, we have a finite set of separate values.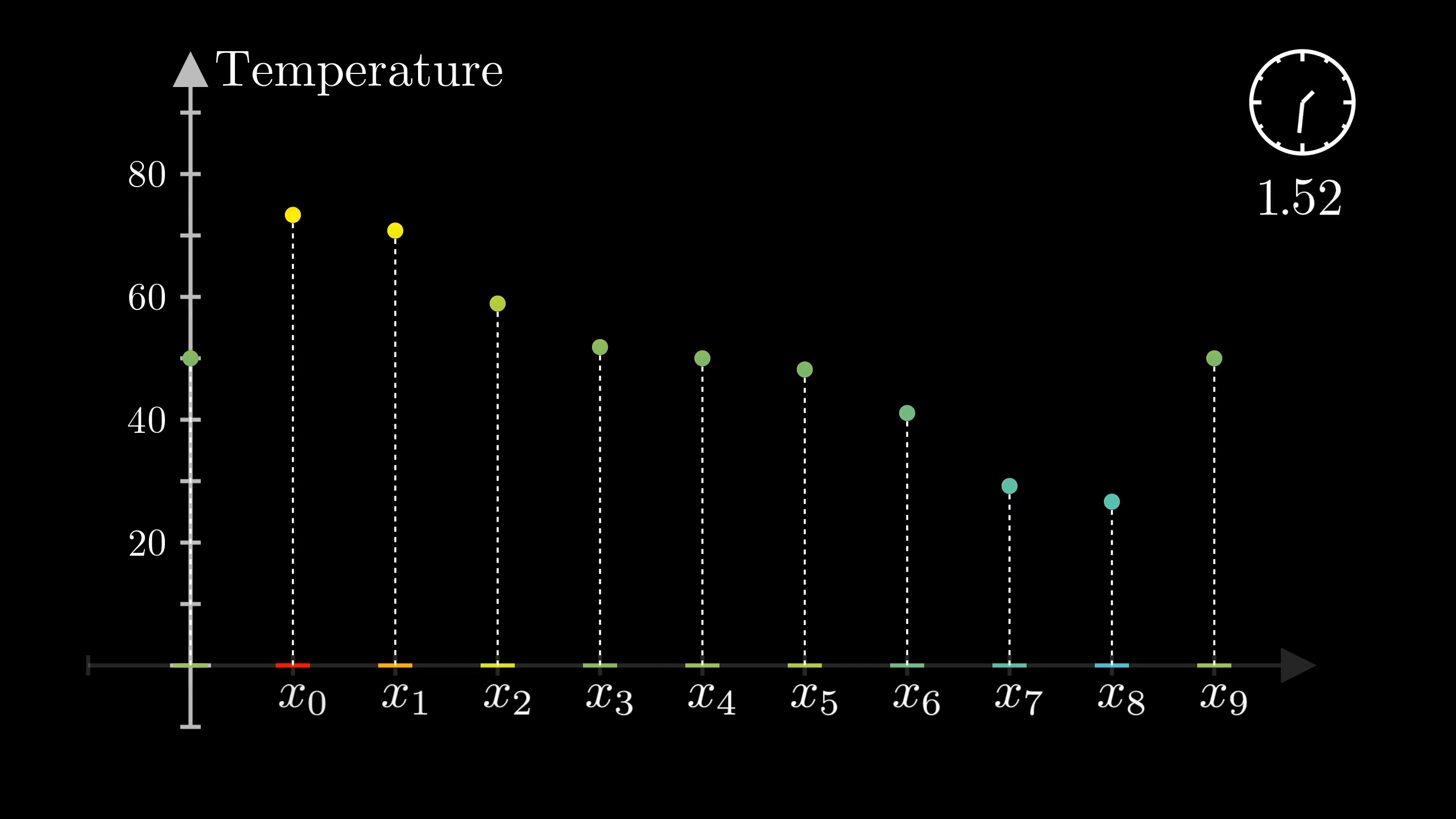 Earlier, we discussed that heat equation changes temperatures in the direction of curvature. Given this, consider a discrete version of our earlier heat equation setup. If a point T2​'s neighbours are, on average, hotter than T2​, how will T2​ change?
If the two neighbours are cooler on average, it will cool down.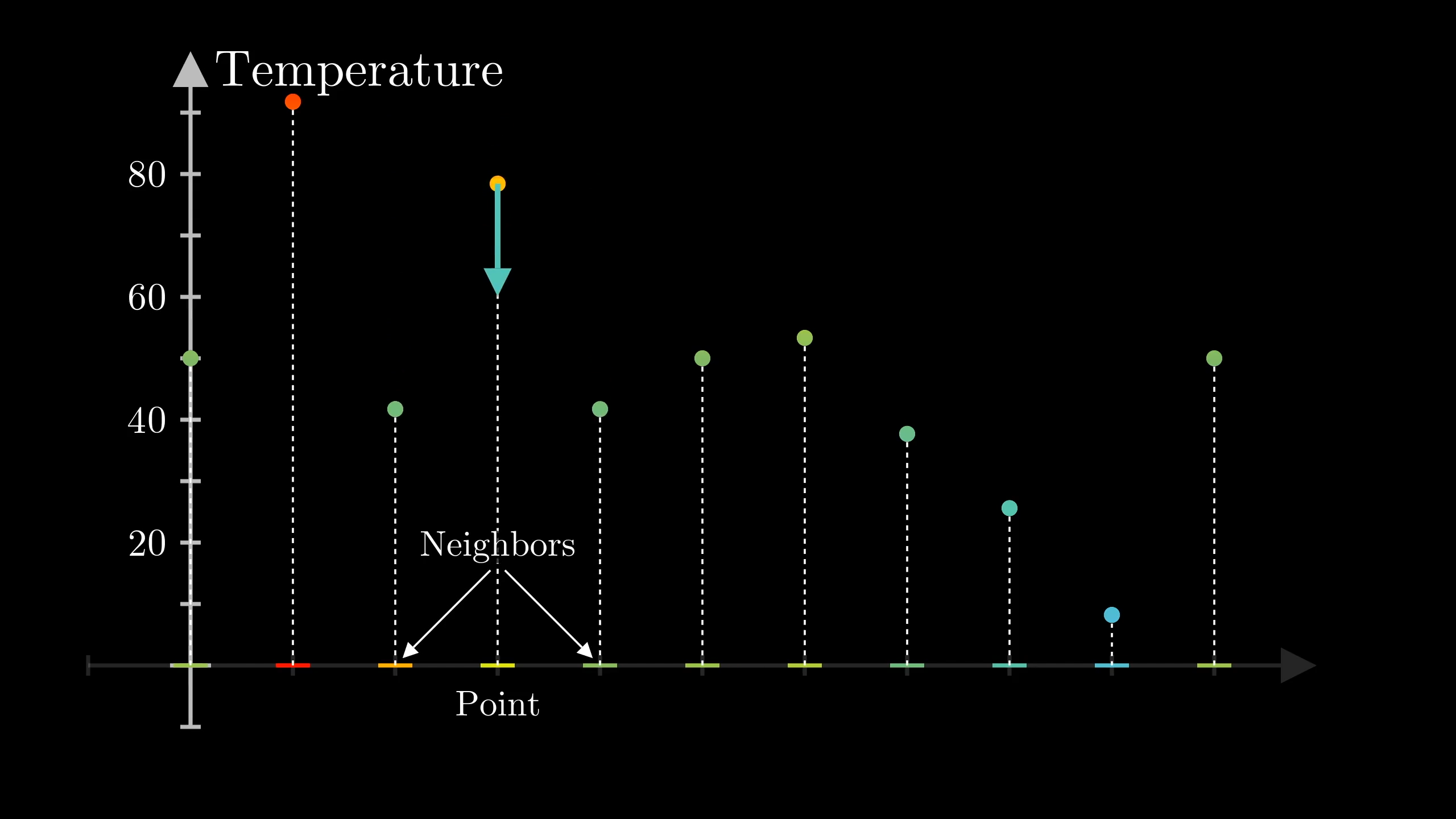 Focus on three neighboring points, x1​,x2​ and x3​, with corresponding temperatures T1​,T2​, and T3​. What we want to compare is the average of T1​ and T3​ with the value of T2​.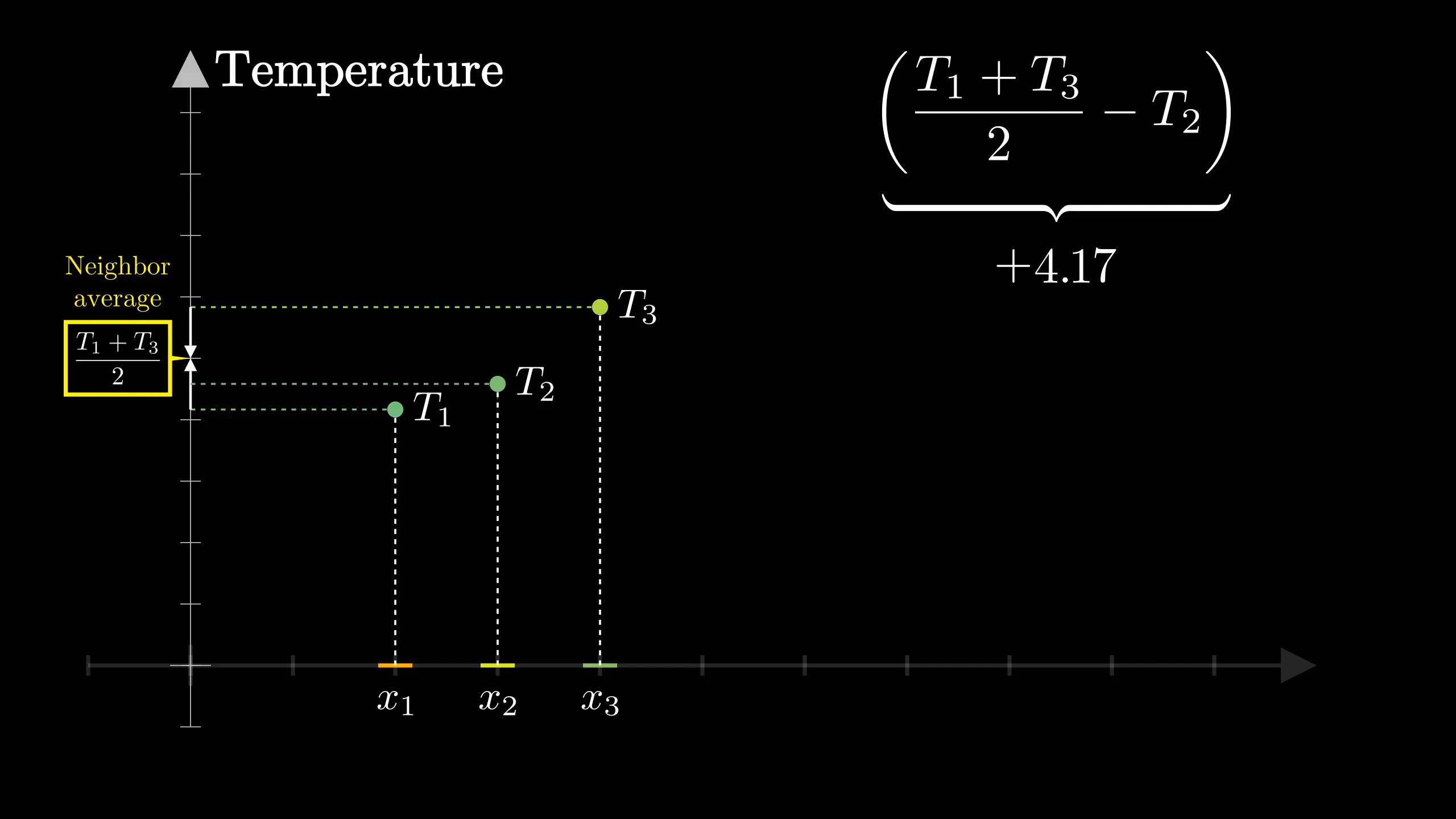 When this difference is greater than 0, T2​ will tend to heat up. And the bigger the difference, the faster it heats up.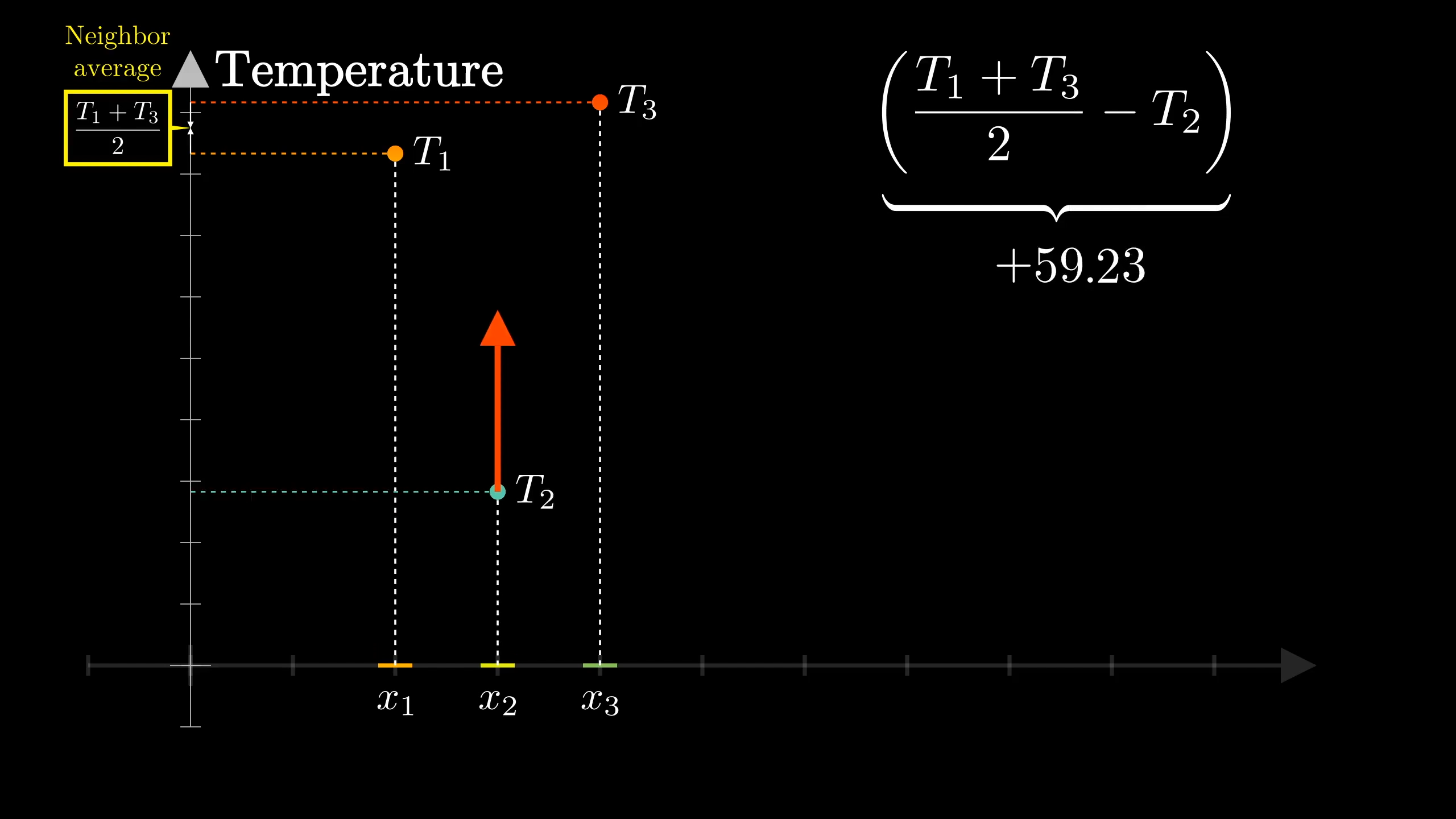 Likewise, if it's negative, T2​ will cool down, ak a rate proportional to the difference.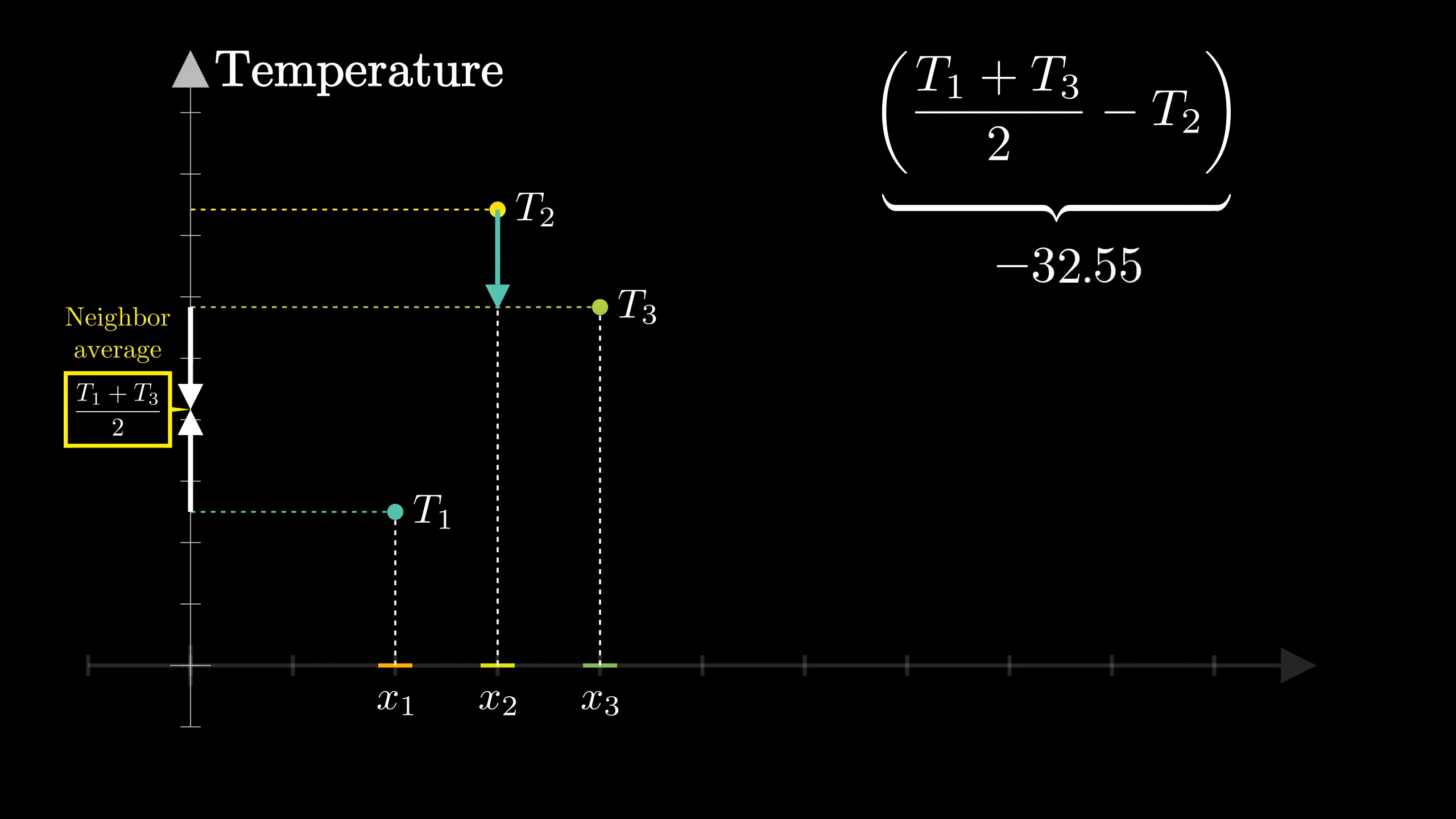 More formally, the derivative of T2​, with respect to time, is proportional to this difference between the average value of its neighbors and its own value. Alpha, here, is simply a proportionality constant.
To write this in a way that will ultimately explain the second derivative in the heat equation, let me rearrange this right hand side in terms of the difference between T3​ and T2​ and the difference between T2​ and T1​.
Like I said, the reason to rewrite it is that it takes a step closer to the language of derivatives. Let's write these as ΔT1​ and ΔT2​.
It's the same number, but we're adding a new perspective. Instead of comparing the average of the neighbors to T2​, we're thinking of the difference of the differences. Here, take a moment to gut-check that this makes sense.
If those two differences are the same, then the average of T1​ and T3​ is the same as T2​, so T2​ will not tend to change.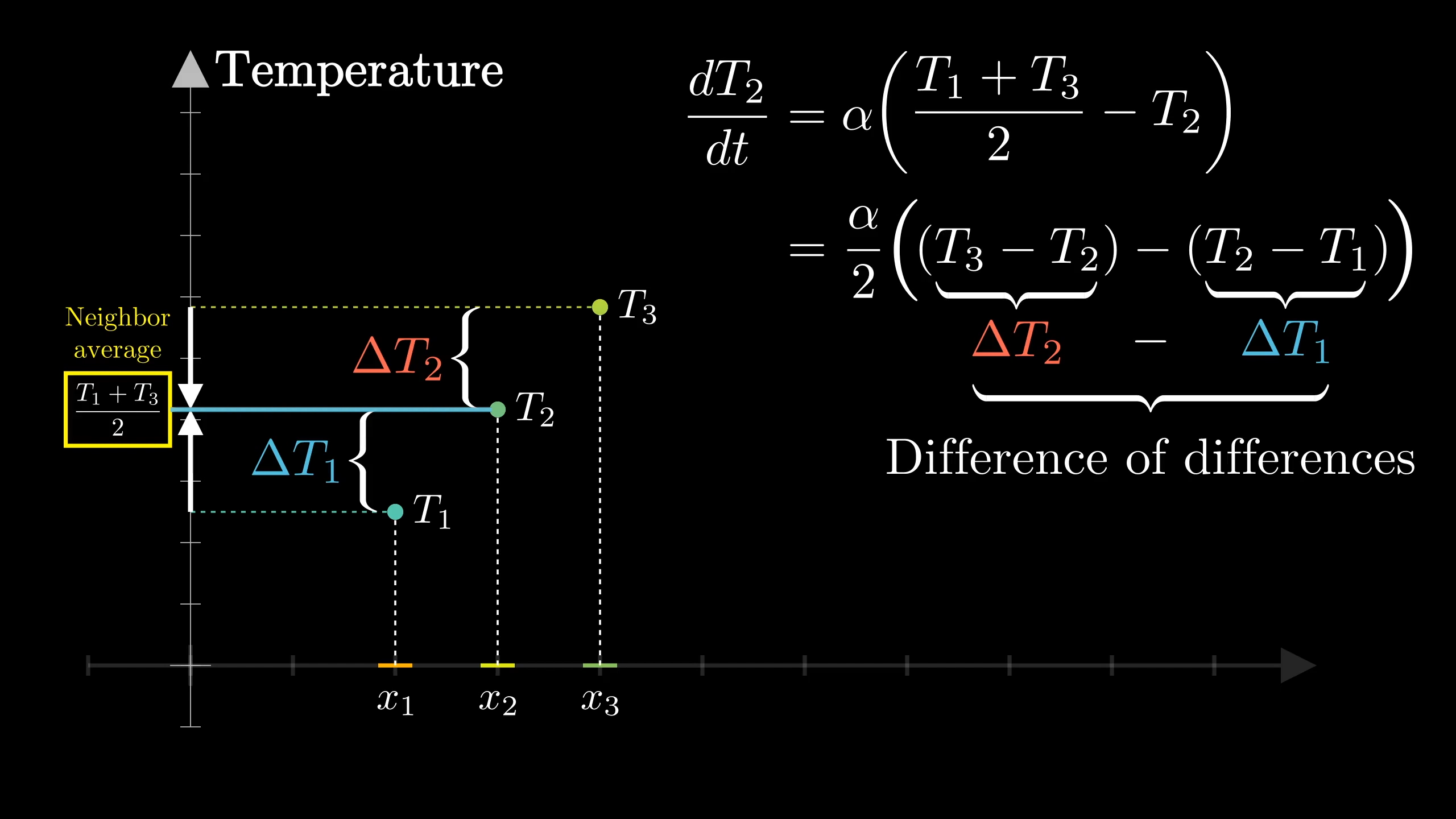 If ΔT2​>ΔT1​, meaning the difference of the differences is positive, notice how the average of T1​ and T3​ is bigger than T2​, so T2​ tends to increase.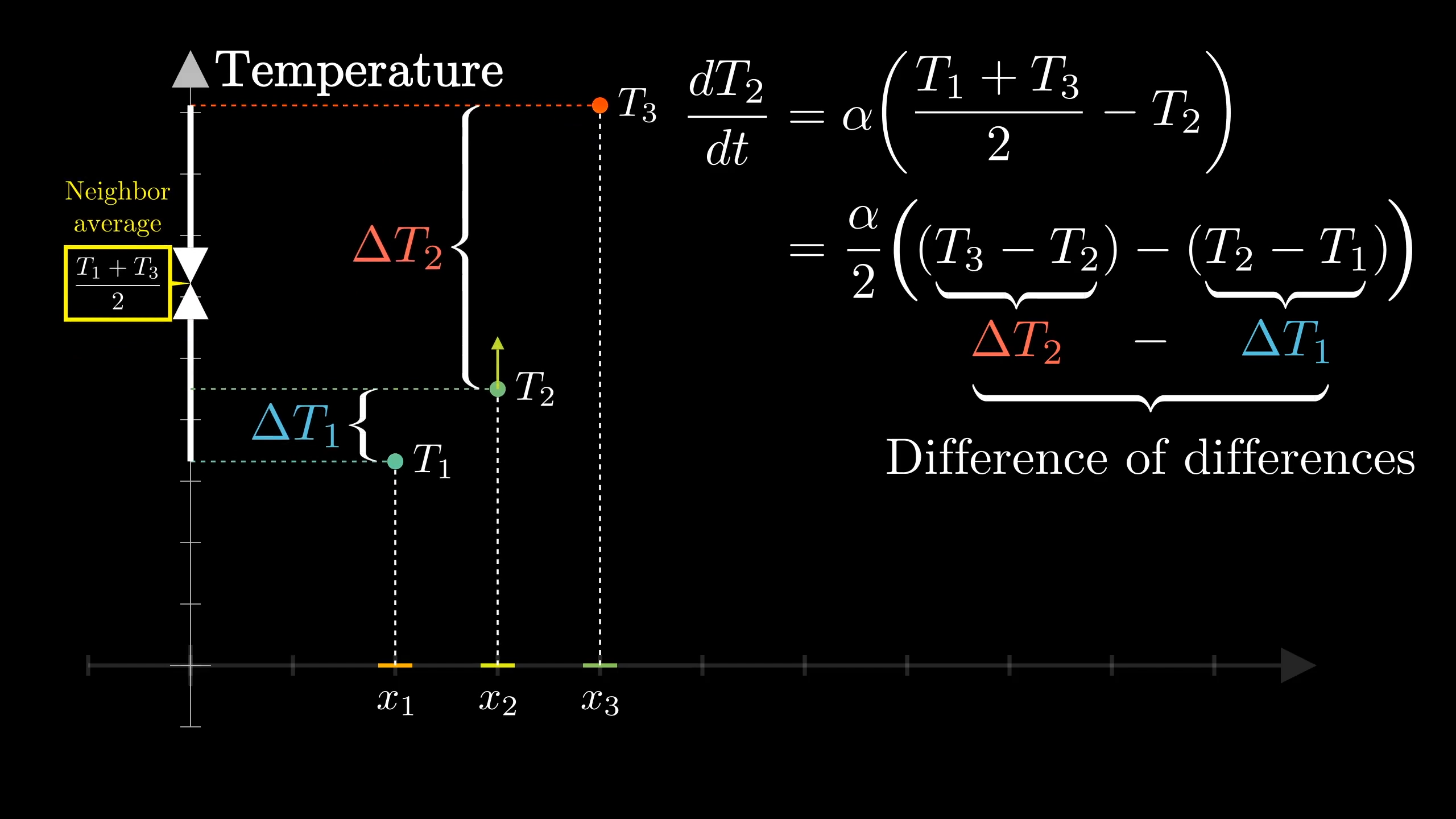 Likewise, if the difference of the differences is negative, meaning ΔT2​<ΔT1​, it corresponds to the average of these neighbors being less than T2​, and so T2​ decreases.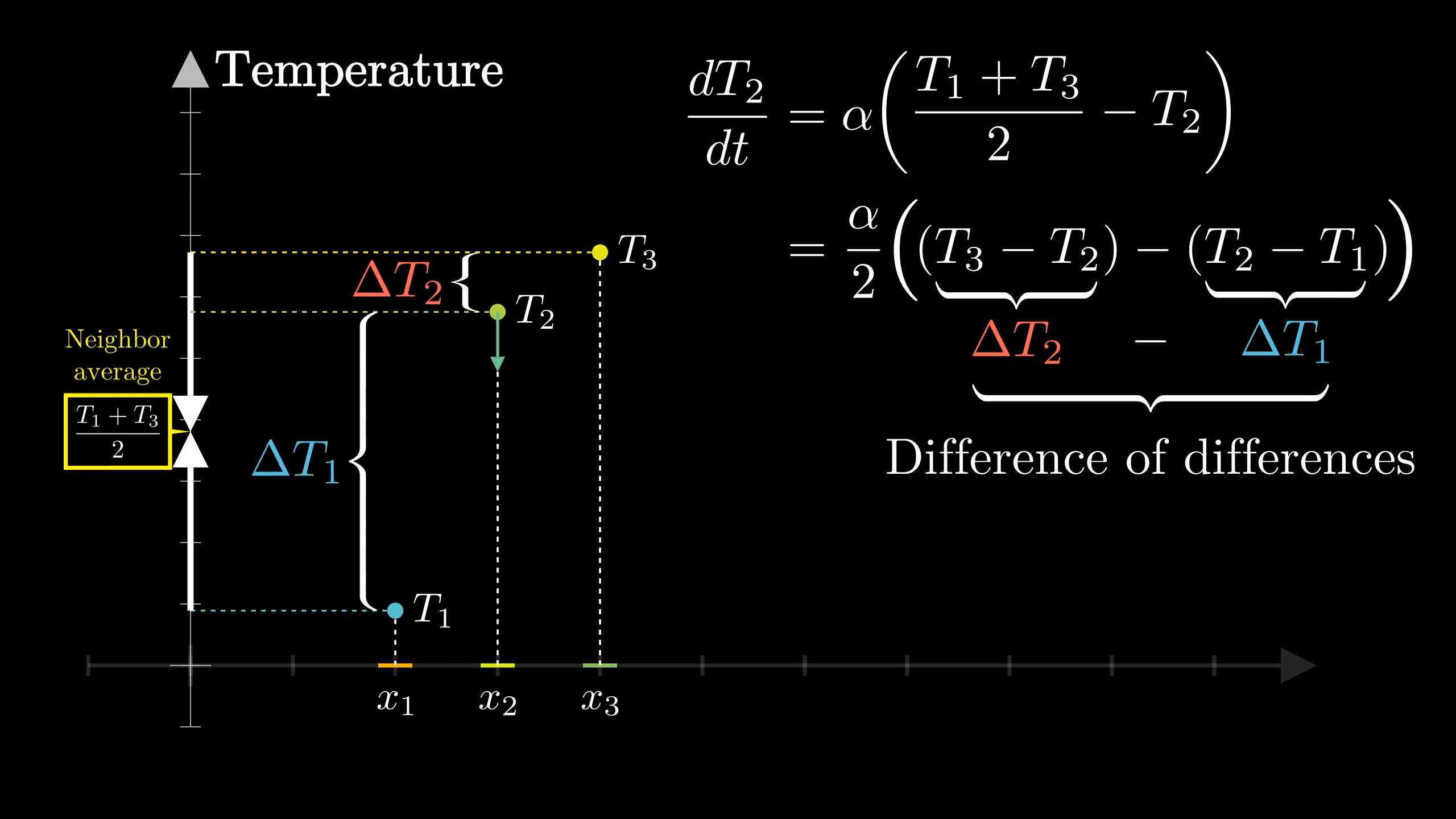 If we wanted to be compact, we could write ΔT2​−ΔT1​ as ΔΔT1​ This is known in the lingo as a "second difference". If it feels a little weird to think about, keep in mind that it's essentially a compact way of writing this idea of how much T2​ differs from the average of its neighbors, just with an extra factor of 21​ is all. That factor doesn't really matter, because either way we're writing our equation in terms of some proportionality constant.
The upshot is that the rate of change for the temperature of a point is proportional to the second difference around it.
Transitioning to the continuous case
As we go from this finite context to the infinite continuous case, the analog of a second difference is the second derivative.
Instead of looking at the difference between temperature values at points some fixed distance apart, you consider what happens as you shrink this size of that step towards 0. And in calculus, instead of asking about absolute differences, which would approach 0, you think in terms of the rate of change, in this case what's the rate of change in temperature per unit distance. Remember, there are two separate rates of change at play: How does the temperature change as time progresses, and how does the temperature change as you move along the rod.
The core intuition remains the same as what we just looked at for the discrete case: To know how a point differs from its neighbors, look not just at how the function changes from one point to the next, but at how that rate of change changes.
This is written as ∂x2∂2T​, the second partial derivative of our function with respect to x.
If ∂x2∂2T​∣x=x1​​>0, what will the graph around x1​ look like?
Tuck that away as a meaningful intuition for problems well beyond the heat equation: Second derivatives give a measure of how a value compares to the average of its neighbors.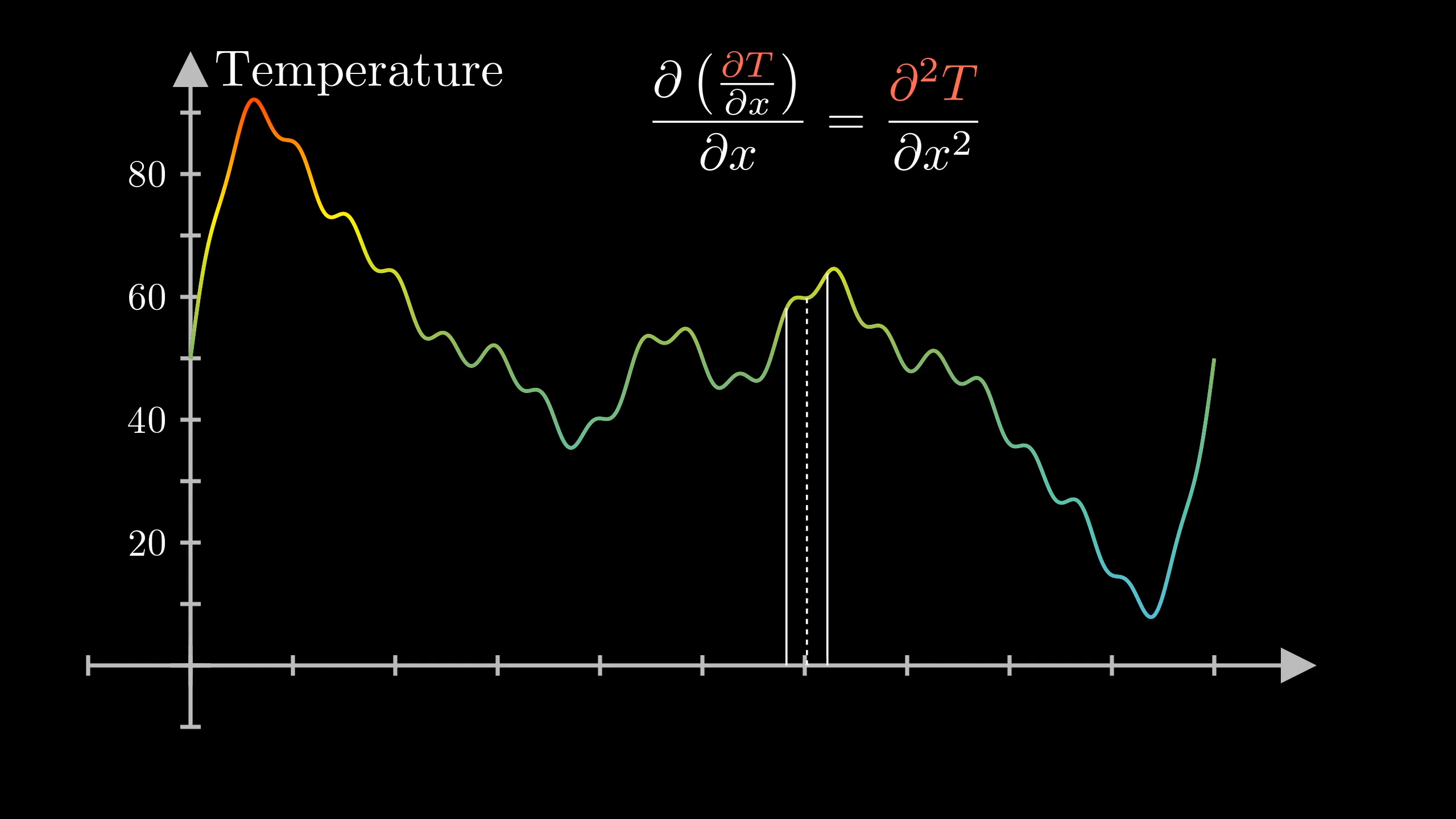 Hopefully that gives some satisfying added color to this equation. It's pretty intuitive when reading it as saying curved points tend to flatten out, but I think there's something even more satisfying seeing a partial differential equation arise, almost mechanistically, from thinking of each point as tending towards the average of its neighbors.
PDEs vs ODEs
Take a moment to compare what this feels like to the case of ordinary differential equations. For example, let's say we have multiple bodies in space, tugging on each other with gravity.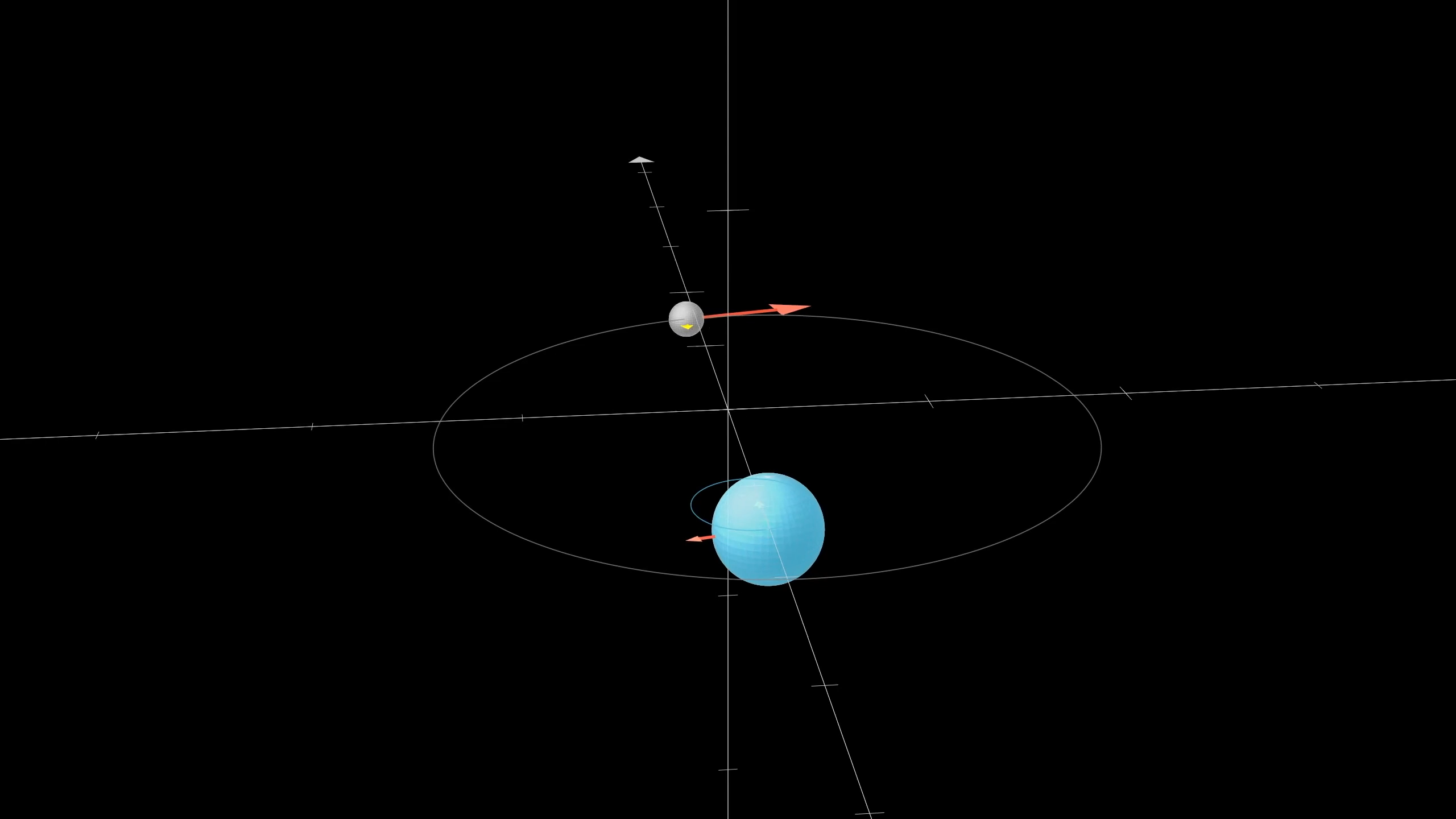 We have a handful of changing numbers: The coordinates for the position and velocity of each body. The rate of change for any one of these values depends on the values of the other numbers, which we write down as a system of equations. On the left, we have the derivatives of these values with respect to time, and the right is some combination of all these values.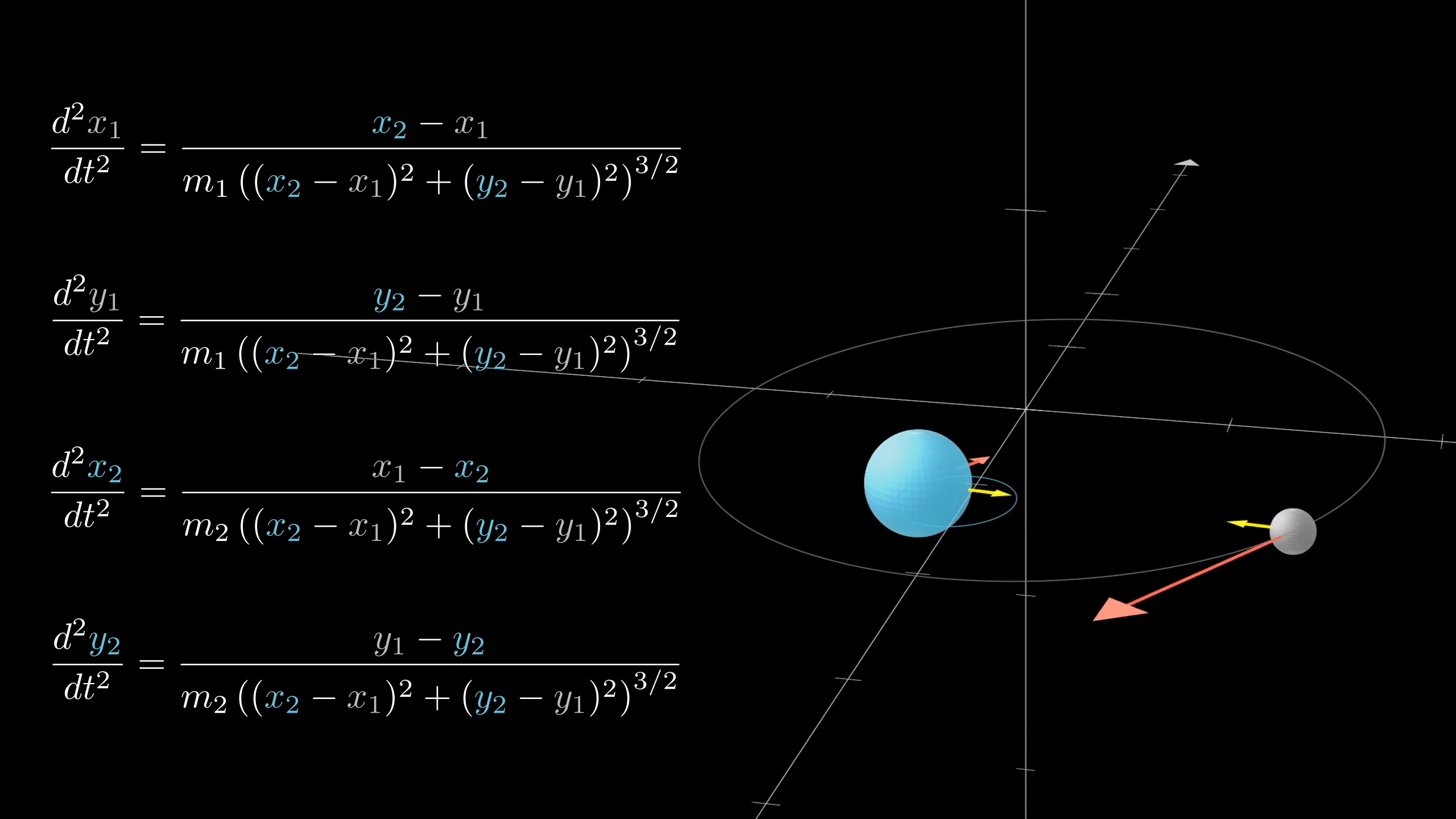 In our partial differential equation, we have infinitely many values from a continuum, all changing. And again, the way any one of these values changes depends on the other values. But helpfully, each one only depends on its immediate neighbors, in some limiting sense of the word neighbor.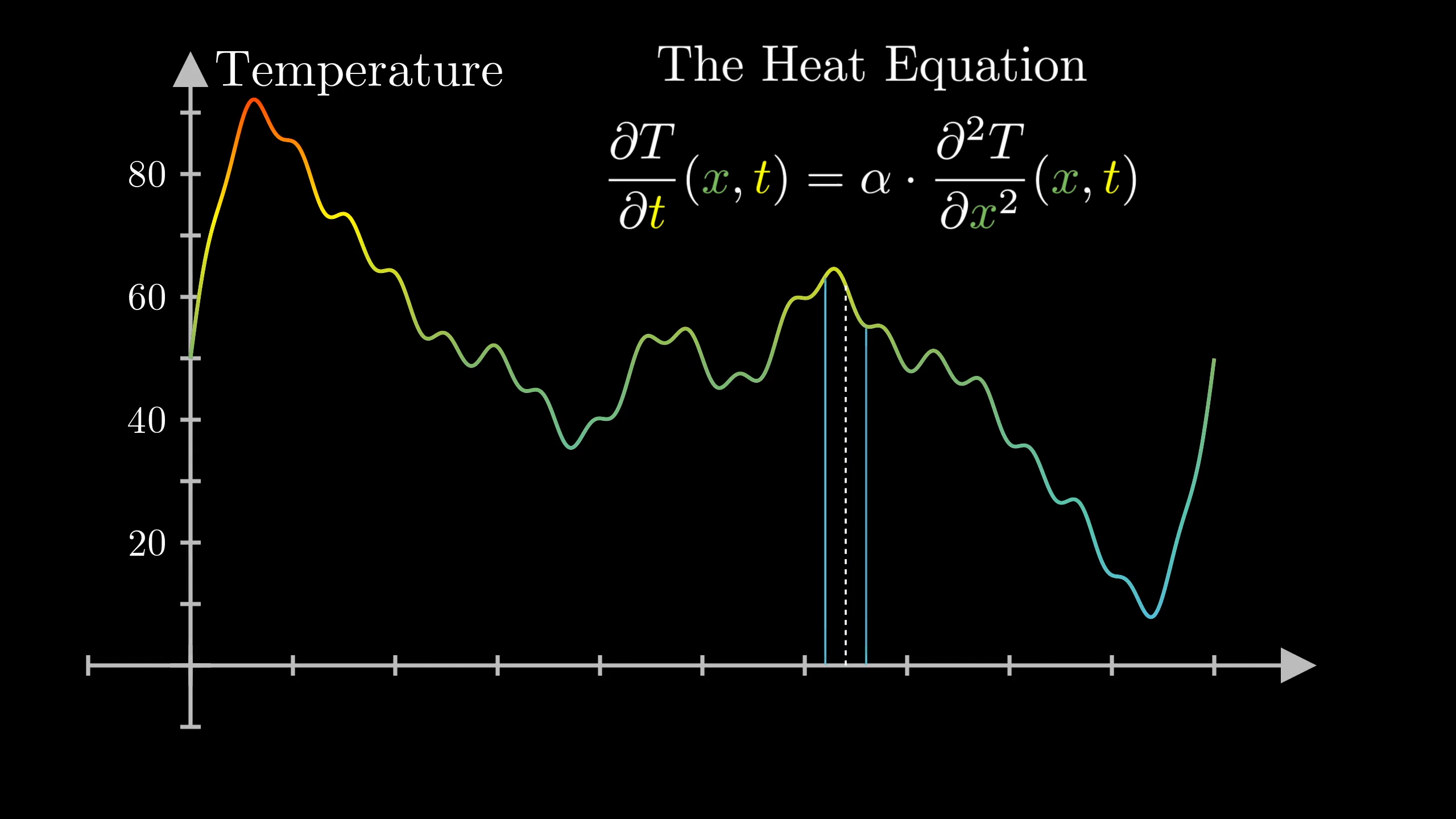 So here, the relation on the right-hand side is not some sum or product of the other numbers, it's also a kind of derivative, just a derivative with respect to space instead of time. In a sense, this one partial differential equation is like a system of infinitely many equations, one for each point on the rod.
Higher dimensions
When your object is spread out in more than one dimension, like a plate, or a cube, the equation looks quite similar, but you include the second derivative with respect to the other spatial directions as well.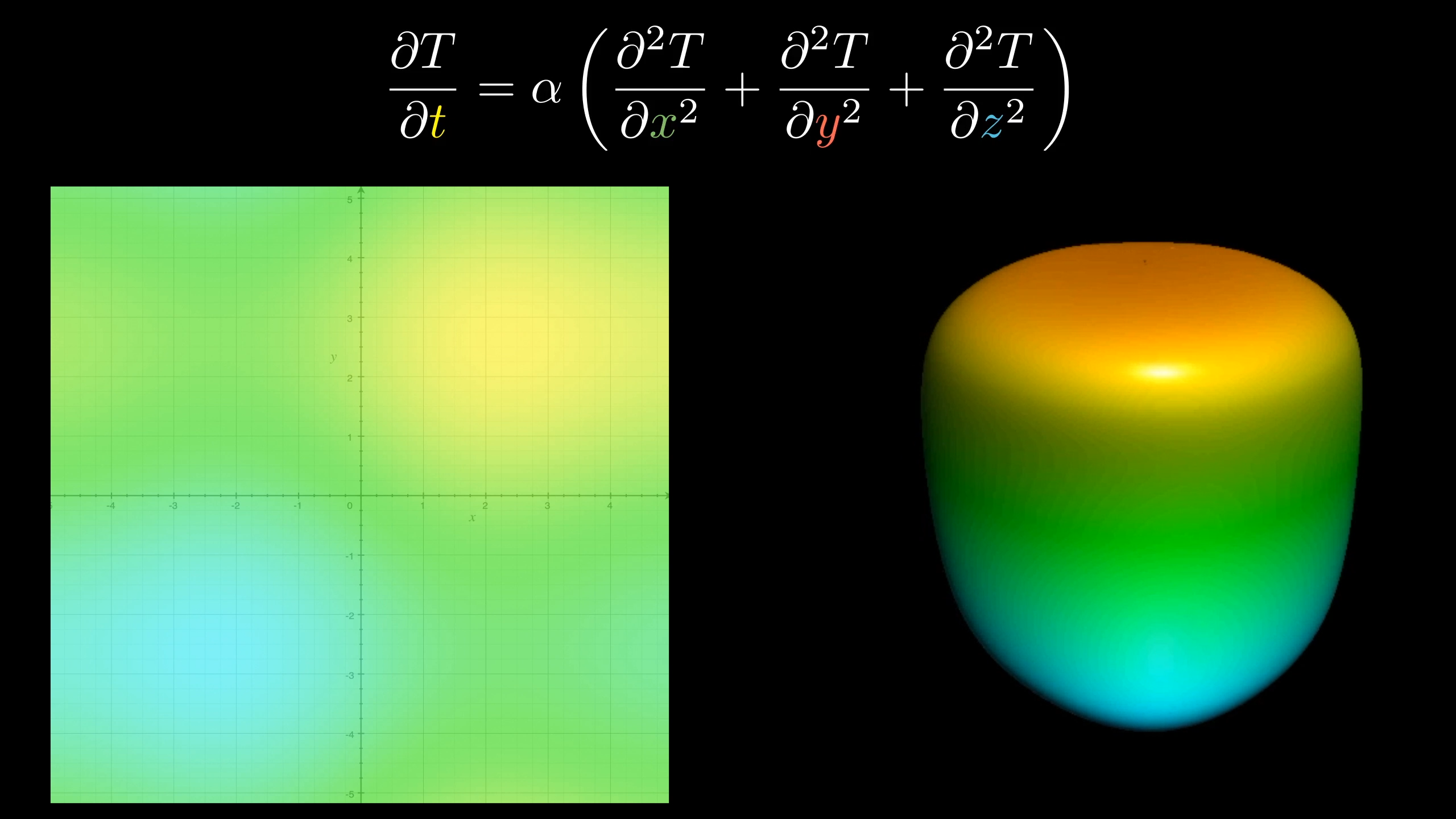 Adding all the second spatial second derivatives like this is a common enough operation that it has its own special name, the "Laplacian", often written as an ∇2T.
It's essentially a multivariable version of the second derivative, and the intuition for this equation is no different from the 1d case: This Laplacian still can be thought of as measuring how different a point is from the average of its neighbors, but now these neighbors aren't just to the left and right, they're all around.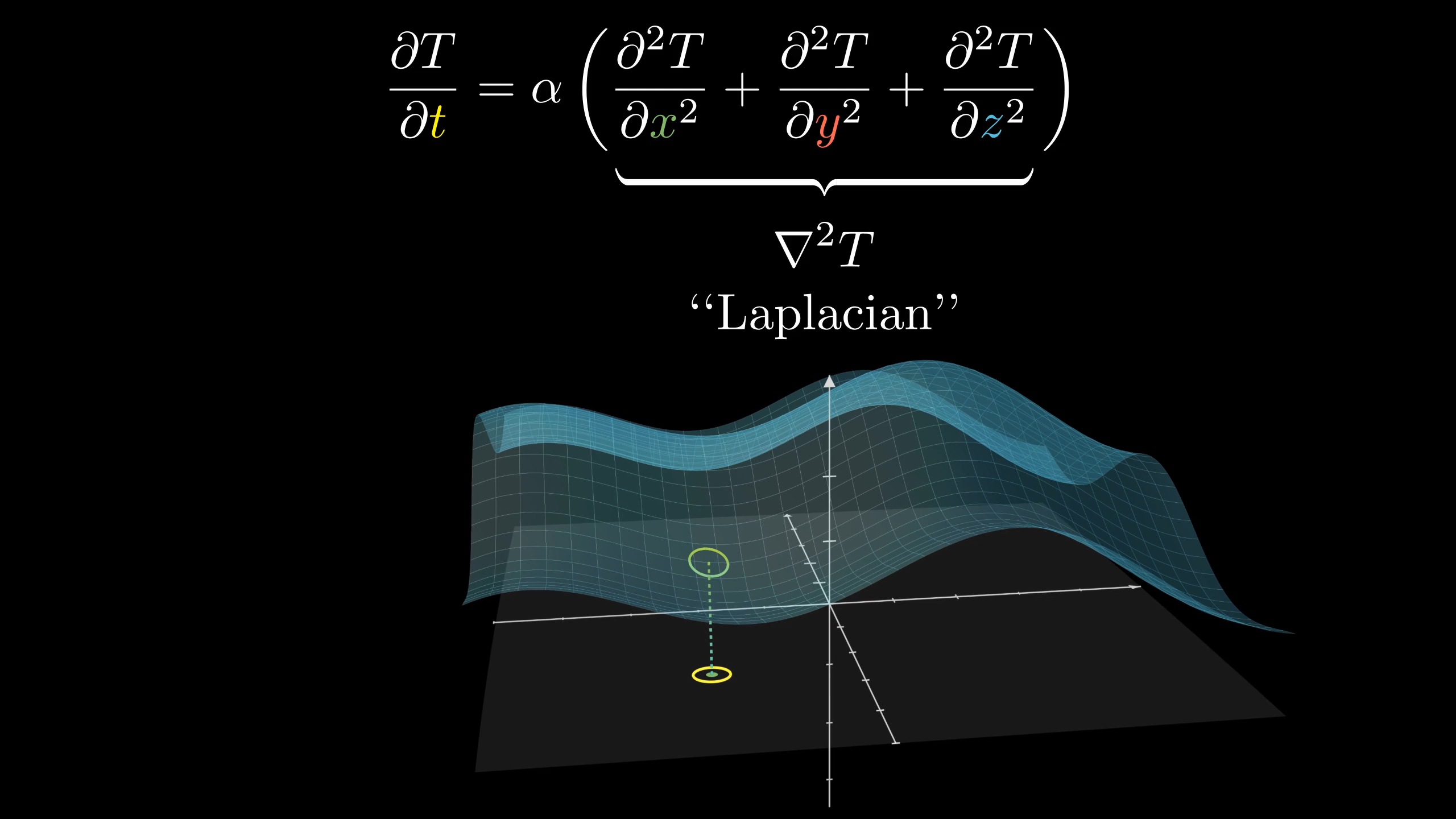 I did a couple of videos during my time at Khan Academy on this operator, if you want to check them out. For our purposes, let's stay focused on one dimension.
Next lesson
If you feel like you understand all this, pat yourself on the back. Being able to read a PDE is no joke, and it's a powerful addition to your vocabulary for describing the world around you. But after all this time spent interpreting the equations, I say it's high time we start solving them, don't you? And trust me, there are few pieces of math quite as satisfying as what poodle-haired Fourier developed to solve this problem. All this and more in the next chapter.
Thanks
Special thanks to those below for supporting the original video behind this post, and to current patrons for funding ongoing projects. If you find these lessons valuable, consider joining.
1stViewMaths
Adam Miels
Adrian Robinson
Alan Stein
Alex Dodge
Alex Frieder
Alexis Olson
Ali Yahya
Alvaro Carbonero
Alvin Khaled
Andreas Benjamin Brössel
Andreas Nautsch
Andrew Busey
Andrew Foster
Andrew Mohn
Andy Petsch
Ankalagon
Antoine Bruguier
Antonio Juarez
Arjun Chakroborty
Arkajyoti Misra
Art Ianuzzi
Avi Bryant
Awoo
Ben Granger
Bernd Sing
blockulator
Boris Veselinovich
Brad Weiers
Brian Sletten
Brian Staroselsky
Britt Selvitelle
Britton Finley
Bryce D. Wilkins
Burt Humburg
Carlos Iriarte
Chad Hurst
Chandra Sripada
Charles Southerland
Chris Connett
Chris Sachs
Christian Cooper
Christian Kaiser
Christian Mercat
Christopher Lorton
Clark Gaebel
ConvenienceShout
Cooper Jones
D. Sivakumar
Dan Davison
Danger Dai
Dave B
Dave Kester
dave nicponski
David B. Hill
David Camp
David Clark
David Gow
David House
David J Wu
David Kedmey
DeathByShrimp
Delton Ding
Derek G Miller
Dheeraj Narasimha
Dhilung Kirat
eaglle
Elliot Winkler
emptymachine
Eric Koslow
Eric Younge
Eryq Ouithaqueue
EurghSireAwe
Evan Miyazono
Evan Phillips
Federico Lebron
Filip Milosavljevic
Florian Ragwitz
Giovanni Filippi
Gokcen Eraslan
Gordon Gould
Graham
Gregory Hopper
Günther Köckerandl
Hal Hildebrand
Henry Reich
Hervé Guillon
Hitoshi Yamauchi
Iaroslav Tymchenko
Isaac Jeffrey Lee
Isaac Shamie
J
j eduardo perez
Jacob Magnuson
Jacob Wallingford
Jaewon Jung
Jake Brownson
Jameel Syed
James Golab
Jason Hise
Jay Ebhomenye
Jayne Gabriele
Jean Peissik
Jeff Linse
Jeff Straathof
Jeremy Cole
John C. Vesey
John Carter
John Griffith
John Haley
John Shaughnessy
John V Wertheim
Jonathan Eppele
Jonathan Whitmore
Jonathan Wilson
Jonathan Wright
Jono Forbes
Jordan Scales
Joseph John Cox
Joseph Kelly
Juan Benet
Kai-Siang Ang
Kanan Gill
Kartik Cating-Subramanian
Kasia Hayden
Kaustuv DeBiswas
Keith Smith
Kenneth Larsen
Kevin Norris
Kevin Orr
Krishanu Sankar
L0j1k
Lael S Costa
LambdaLabs
Lee Beck
Lee Burnette
Lee Redden
levav ferber tas
Linh Tran
Lock
Longti
Luc Ritchie
Ludwig Schubert
Lukas -krtek.net- Novy
Lukas Biewald
Magister Mugit
Magnus Dahlström
Mahrlo Amposta
makkostya
Manne Moquist
Manuel Garcia
Mark B Bahu
Mark Heising
Marshall McQuillen
Martin Price
Márton Vaitkus
Mathias Jansson
Matt Langford
Matt Parlmer
Matt Roveto
Matt Russell
Matthew Bouchard
Matthew Cocke
Max Anderson
Mayank M. Mehrotra
Mert Öz
Michael Faust
Michael Hardel
Michael Kohler
Michael W White
Mike Coleman
Mike Dour
Mike Dussault
Mikko
Mirik Gogri
Mustafa Mahdi
Nenad Vitorovic
Nero Li
Nican
Nikita Lesnikov
Octavian Voicu
Omar Zrien
otavio good
Owen Campbell-Moore
Patch Kessler
Peter Ehrnstrom
Peter Mcinerney
PeterCxy
Psylence
Qinghong Shi
Quantopian
RabidCamel
Ramakrishna Mathiraj
Randy C. Will
Randy True
Raphael Nitsche
RedAgent14
rehmi post
Richard Barthel
Richard Burgmann
Richard Comish
Ripta Pasay
Rish Kundalia
Robert Davis
Robert Teed
Robert van der Tuuk
Roobie
Roy Larson
Roy Velich
Ryan Atallah
Ryan Williams
Sachit Nagpal
Sandy Wilbourn
Scott Gray
Scott Walter, Ph.D.
Sean Barrett
Sean Gallagher
Sebastian Braunert
Sergey Ten
Shahbaz Shaikh
sidwill
soekul
Solara570
Sophie Karlin
Steve Cohen
Stevie Metke
Sundar Subbarayan
Tal Einav
TD
Ted Suzman
Thomas Peter Berntsen
Thomas Tarler
Tihan Seale
Tim Robinson
Tino Adams
Tobias Christiansen
Tom Fleming
Trevor Settles
Tyler Herrmann
Valentin Mayer-Eichberger
Valeriy Skobelev
Vassili Philippov
Victor Castillo
Victor Kostyuk
Victor Lee
Vladyslav Kurmaz
Xavier Bernard
Yair kass
Yana Chernobilsky
Yavor Ivanov
Yaw Etse
YinYangBalance.Asia
Yixiu Zhao
Yu Jun
Zach Cardwell
Zachary Elliott
噗噗兔
泉辉致鉴
育良 陳